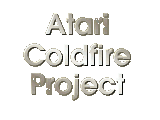 . . . česky . . . deutsch . . . english . . . espańol . . . français . . . italiano . . . русский . . .

----- Informace k objednávkám -----

Pokud si přejete předobjednat počítač FireBee za cenu Eur 599 (+DPH +poštovné), existují dvě možnosti: 1) Velmi doporučujeme přímý bankovní převod (SWIFT) na bankovní účet společnosti Medusa Computer Systems. Jednoduše nám pošlete Vaší objednávku s uvedením doručovací adresy na email 'acpinfo (at) atari (dot) org'. Obratem Vám poskytneme veškeré platební instrukce včetně IBAN a BIC kódů. 2) Pokud není pro Vás přímý bankovní převod z nějakého důvodu realizovatelný, případně by bankovní poplatky byly příliš vysoké, máte možnost na stránkách medusacomputer.com zadat objednávku s platbou prostřednictvím služby PayPal




2013-05-03 Icon Set v 2.0 pro Thing! a Teradesk

Icon Set v 2.0 je nová sada ikon pro desktopy Thing! a Teradesk. První verze, která byla pouze pro desktop Thing!, prošla velkým updatem a je nyní k dispozici i pro Teradesk Ačkoli většina základních ikon nebyla změněna, celkový počet ikon v balíku se téměř zdvojnásobil (přibyly ikony pro nové aplikace, adresáře i typy souborů). Většina ikon je k dispozici pro oba desktopy. Vyjímku tvoří ikony, které jsou specifické pro ten který desktop. Sada Icon Set 2.0 pro Thing! obsahuje 294 ikon (hlavně ve formátu 32x32 v šestnácti barvách a v monochromu), v sadě pro Teradesk je 258 icon (všechny 32x32x16/2). Součástí obou archivů jsou i konfigurační soubory, kde je většina ikon již přiřazena. Soubor desktop.inf pro Teradesk nabízí základní konfiguraci desktopu FireBee podobnou jako Thing!. Pozor, pokud nahradíte svůj konfigurační soubor, přijdete o osobní nastavení. Doporučujeme použít barevnou paletu z NVDI. Pokud použijete klasicou GEM paletu barev, ikonky budou tmavší. Uživatelům FireBee, kteří si chtějí sadu ikon zaktualizovat, radíme zazálohujte si původní sadu včetně nastavení (v desktopu Thing! se jedná o soubory: icons.rsc & icons.inf; v Teradesktopu: cicons.rsc, icons.rsc a desktop.inf.

Zde si můžete stáhnout sadu Icon Set 2.0 pro Thing!
Zde si můžete stáhnout sadu Icon Set 2.0 pro Teradesk

Mějte na paměti, že tyto ikonové sady jsou optimalizovány pro FireBee a vzhledem k jejich velikosti nebylo zamýšleno jejich použití na slabších strojích.
Sada icon Linear Grey (v. 0.9 alpha) pro Teradesk
"Linear Grey" je minimalisticky stylovaná ikonová sada v 256 barevné (NVDI) paletě pro Teradesk. Ačkoli byla původně zamýšlená pouze pro testování, vyvinula se do základní sady ikon pro Teradesk. Obsahuje 59 originálních ikon v klasickém formátu 32x32 v barevných hloubkách 256, 16 barev a v monochromu. Přiložen je také konfigurační soubor desktop.inf se základním nastavením pro FireBee. Je nutno použít barevnou paletu NVDI, s GEM paletou je většina ikon zobrazena se špatnými barvami. Jedná se o prvotní alfa verzi a je tedy možné, že bude nutné na balíku udělat ještě úpravy.
Uživatelům FireBee, kteří by si chtěli tuto sadu ikon vyzkoušet, radíme zazálohujte si vaši původní sadu včetně nastavení (t.j. soubory cicons.rsc, icons.rsc a desktop.inf).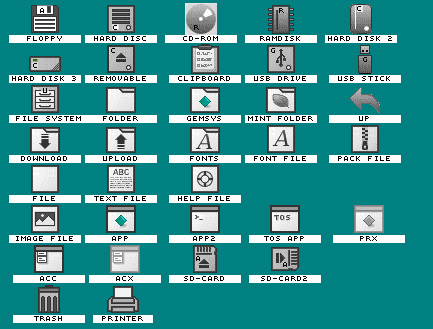 Zde si můžete stáhnout balík ikon Linear Grey (v. 0.9 alpha).
2013-04-24 Co je uvnitř - PIC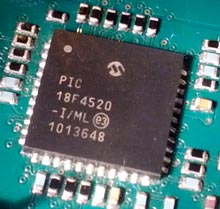 V předcházejících článcích řady "Co je uvnitř" jsme popsali dva hlavní programovatelné komponenty desky FireBee: procesor ColdFire a FPGA. Kromě těchto je zde třetí čip, sloužící jako konduktér.
Zkratka PIC znamená "Peripheral Interface Controller". Tento integrovaný obvod patří do rodiny mikrořadičů firmy Microchip. PICy jsou velice kompaktní a levné programovatelné komponenty. Uvnitř čipu je integrovaný vlastní procesor, dedikovaná paměť flash ROM pro program, paměť typu RAM pro data a vstupně / výstupní porty. Mikrořadiče se programují buď v assembleru nebo jazyce C.
PIC uvnitř našeho FireBee je typu Microchip PIC18F4520. Jeho softwarové vybavení může být aktualizováno pomocí externího programátoru (v budoucnosti to bude možné dělat programově). PIC obsluhuje důležité úlohy a proto se nikdy nevypíná. Pomalé blikání modré LED na FireBee indikuje, že PIC běží.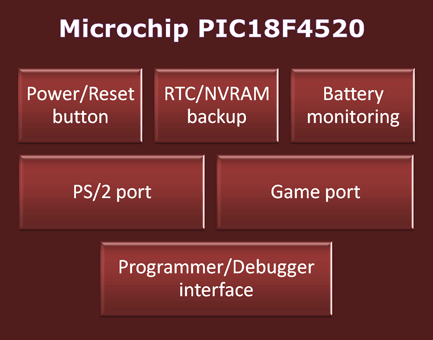 Vypímač / Reset tlačítko - PIC stále monitoruje toto tlačítko, zapíná, vypíná nebo resetuje hlavní části počítače FireBee.
Hodiny reálného času a záloha NVRAM. Jak bylo popsáno v předcházejícím článku, v FPGA je implementována NVRAM a hodiny realného času kompatibilní s Atari Falcon030. Pokud je ale FireBee vypnuto, stav FPGA je ztracen. Na druhou stranu, PIC běží neustále. Před vypnutím je NVRAM a aktuální čas přenesen z FPGA do čipu PIC, kde je udržován a aktualizován. Po zapnutí jsou data zkopírována zpět do FPGA a tak nepoznáte, že FireBee bylo vypnuto.
Sledování baterie - PIC neustále sleduje stav baterie. Když napětí baterie poklesne pod určitou mez, FireBee se automaticky vypne. To zabraňuje hardwarovým problémům kvůli nízkému napětí a zajistí dostatek energie k ochraně dat NVRAM a k udržení běhu hodin na celé měsíce.
Port PS/2 - tento port je přímo připojen k mikrořadiči PIC. V současnosti není využit, v budoucí aktualizaci bude jeho funkcionalita obdobná adaptéru Eiffel. Potom FireBee bude umět používat PS/2 klávesnice a myši, stejně jako by to byly standardní zařízení Atari.
Gameport - momentánlně je zablokován. Na tento interní port bude možné připojit standardní Atari myš nebo joystick.
Programovací / debugovací rozhraní - slouží pro připojení hardwarového programátoru jako například Microchip PICkit, který musí být připojen k jinému počítači. Takto je možné PIC vzdálené aktualizovat, případně vývojáři mohou používat debugger pro krokování programu.
Detailní informace o PIC18F4520 najdete na webu Microchipu: http://www.microchip.com/wwwproducts/Devices.aspx?dDocName=en010297
2013-03-07 Several New Applications
2013-03-01 Více zvuku, vylepšený EmuTOS a GFA Library, překlad Teradesku
mxPlay 2
20. února byla zveřejněna nová verze přehrávače modulů mxPlay 2. MiKRO ze skupiny Mystic Bytes tím umožníl všem uživatelům FireBee a Falconů s CT6x přehrávat jakýkoli hudební modul! Tento audio přehrávač pro Atari zvládá drag&drop, dlouhá jména souborů, má moderní skinovatelné uživatelské rozhraní, playlisty, plugin API a mnoho dalšího. Skvělé je, že při přehrávání XM nebo S3M souborů, program nyní zvládne zahrát až 32 kanálů. mxPlay je otevřený projekt, který si můžete stáhnout ze serveru SourceForge.
"Modulovou" hudbu si lze obstarat například z archivu "Fading Twilight". Jde o skladby Atari muzikantů z celého světa. SAP soubory z osmibitového Atari jsou k mání v archivu ASMA

Nový EmuTOS 0.9.0
Vývojový tým EmuTOS vydal novou verzi jejich otevřeného operačního systému. Tato nová distribuce zlepšuje podporu všech Atari počítačů, mezi kterými je samozřejmě i FireBee. Prosim pamatujde, že FireBee verze je Coldfire nativní (t.j. nejsou v ní žádné náhrady za chybějící M68K instrukce) a nepodporuje žádný hardware, který je ve FireBee navíc. Hlavní vlastnosti, které jsou užitečné pro FireBee uživatele: podpora Compact Flash karet bez tabulky oddílů a vylepšený dialog pro výběr souborů (fileselector). EmuTOS je možno nahrát do FireBee pomocí utility FLASH060.PRG. EmuTOS je k dispozici ke stažení ze stránky projektu.

Aktualizovaná GFA-BASIC knihovna
Lonny Pursell opět vylepšil GFA BASIC. Knihovna pro GDOS je nyní přepsána tak aby odpovídala oficiální Atari dokumentaci. Změna v kompileru: "Reverted test for missing CASE statements".
Novou verzi lze stáhnout z Lonnyho webu.

Překlady Teradesku 4.04
Před několika dny vyšly překlady Teradedku 4.04. Jednotlivé archivy jsou ke stažení zde:
Německé RSC & ST Guide
Francouzské RSC
Italské RSC
Ruské RSC and ST Guide
Pozor, nové RSC soubory jsou kompatibilní pouze s oficiálním balíkem Teradesk 4.04
2013-01-31 Teradesk 4.04
Djorde Vukovic právě vypustil novou verzi desktopu Teradesk. Odlehčený desktop je již k dispozici v aktuální Setup distribuci pro FireBee. Nová verze 4.04 nemá žádné nové vlastnosti, ale zaměřuje se na opravy chyb. Současný Teradesk archiv obsahuje optimalizovanou ColdFire verzi (desk_cf.prg). Uživatelé FireBee, kteří chtějí aktualizovat jejich systém, musí přejmenovat desk_cf.prg na desktop.prg, ostatní nastavení a soubory s ikonami mohou zůstat původní (t.j. teradesk.inf a cicons.rsc/icons.rsc).
Národní verze, včetně aktualizované francouzské a zbrusu nové italské verze, budou k dispozici během pár dnů ke stažení ze stránky Teradesku nebo FTP serveru kurobox nebo z webů překladatelů.
Teradesk najdete jako vždy na webu http://solair.eunet.rs/~vdjole/teradesk.htm
2013-01-26 GFA na FireBee
Díky tvrdé práci Lonnyho Pursella GFA Basic technicky dospěl pro FireBee. GBE - GFA Basic Editor - je nyni sestavený s posledními knihovnami pro Coldfire. Bylo opraveno mnoho chyb (např. RECALL) a spousta věcí byla přepracována (jako třeba "Test drop-down menu"). GFA je nyní na tom tak dobře, že jednoduchá rekompilace zajistí, že program, který do teď neběžel správně, nyní bude okamžitě použitelný s FireBee. Novou, vylepšenou verzi Lonny zveřejnil 24. ledna.
Velmi imponující je práce Rajaha Loneho, který před několika týdny začal rekompilovat jeho GFA aplikace na jeho novém FireBee. Většina z nich nyní běží bez problému! Například Litchi může být považováno za nejlepší FTP klient pro FireBee. Za zmínku mimo jiné stojí DGEM - klon hry Dungeon Master nebo Cresus - velice dobrý manažer bankovního účtu.
2013-01-11 What are you actually doing all along?
2012-11-10 Co je uvnitř - FPGA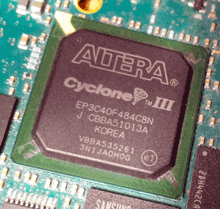 Víte, že FireBee ma dva hlavní čipy: ColdFire (byl popsán v minulém článku série "Co je uvnitř") a FPGA. Dnes se podíváme, které známé komponenty žijí uvnitř FPGA a jak je toho dosaženo.
FPGA znamená "Field-programmable gate array" (programovatelné hradlové pole). Je to elektronická součástka obsahující spoustu logických hradel, které jsou programované v jazyce VHDL. Překonfigurováním FPGA je možné implementovat i velmi komplexní známé čipy. Tato technika je opravdu mocná, například v projektu Suska bylo možné implementovat celý hardware počítače Atari ST právě v FPGA čipu.
Na základní desce FireBee je FPGA čip Altera Cyclone III. Jedná se o velmi výkonný obvod, který obsahuje 40000 logických elementů. K tomuto čipu je přímo připojena většina pinů konektorů FireBee. Ve výsledku, chování hardwaru FireBee může být jednoduše měněno rekonfigurováním FPGA čipu. Tato operace může být samozřejmě prováděna programově.
Deska FireBee je osazena pouze moderními komponenty. Všechny klasické Atari čipy jsou naimplementovány uvnitř FPGA. Většina virtuálních komponent pochází z projektu Suska, některé (např. VIDEL) jsou naprogramovány nově.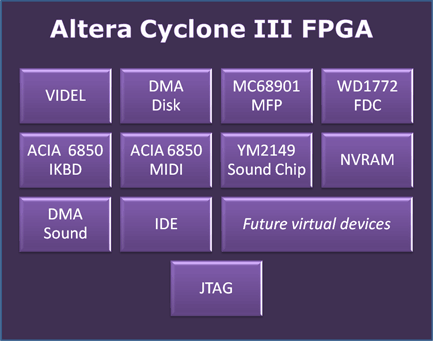 VIDEL - známý grafický čip z Atari Falcon.
DMA - čip použitý pro transfer dat z floppy mechaniky a ACSI rozhraní.
MC68901 MFP - řadič přerušení, časovače, vstupně / výstupní porty.
ACIA 6850 IKBD - rozhraní pro klávesnici / myš / joystick.
ACIA 6850 MIDI - rozhraní pro MIDI zařízení.
NVRAM - hodiny reálného času a stálá paměť komptatibilní s Falconem.
DMA zvuk - čip pro STe zvuk.
IDE - standardní IDE rozhraní, pro pevné disky a CF karty.
JTAG - rozhraní pro připojení programátoru nebo debuggeru.
Možná jste si všimli, že některý hardware chybí - Blitter, DSP56001,... Tyto zatím čekají na implementaci ve VHDL. Jakmile se tak stane, budou začleněny do hardwaru ve FireBee.

FPGA není limitováno pouze hardwarem Atari. Pomocí něj je možné vytvořit jakýkoliv hardware ať už kopie existujících čipů nebo uplně nové zákaznické obvody. Právě tato vlastnost spolu v kombinaci se silou procesoru ColdFire dělá z FireBee výbornou platformu pro hardwarove hackery.

Více informací o Cyclone III najdete na stránce Altery: cyclone3
2012-10-26 Hatari running on the FireBee
2012-10-19 GFABASIC comes to the FireBee
2012-10-19 LDG, SDL and PmDoom
2012-10-04 FreeMiNT and AHCC
2012-09-01 Developer-Machines got Shipped
2012-08-08 Elansar - the first purchase gaming title for the FireBee gets shipped
2012-08-03 Official Shipping start of the FireBee Mini Case!
2012-07-13 Probe House Software release ColdFire software
2012-07-06 Arkanoid running on the FireBee
2012-05-07 FireBee in Multitasking Action
2012-05-04 Digital Cameras
2012-04-13 Official FreeMiNT Setup Release
2012-04-11 Several new Software Releases
2012-03-27 Pexec patch patched!
2011-11-15 ACP proudly presents: the quarterly report ;)
23. 8. 2011 ACP-News-August-2011
NVDi upraveno pro FireBee
cURL na FireBee
GPG pro Atari
Nová chyby opravující verze AHCC
Noví členové teamu
Nové betaverze FireTOSu, fireconf.cpx a nová dokumentace
Další vylepšení podpory USB
Dosažení milníku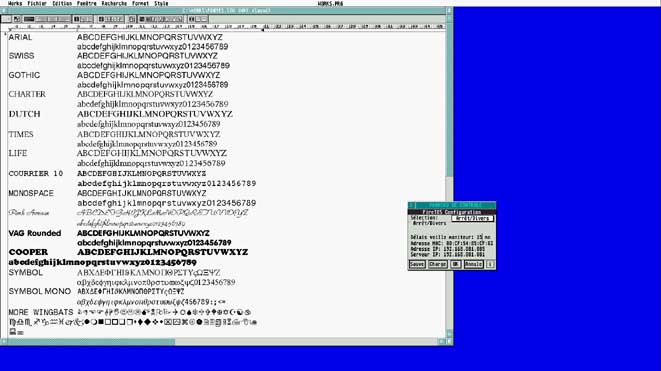 NVDi upraveno pro FireBee
S FireBee nyní můžete používat i upravenou verzi NVDI. Díky tomu můžete nyní na FireBee vyzkoušet všechny programy, které pro svou činnost NVDI vyžadují - to zn, na příklad Textel, Artworx a Papillon. Funkcionality GDOS, implementovanév NVDI vám v těchto programech umožní používat různé řezy písma - fonty. Také by mělo být teoreticky možné z těchto programů přímo tisknout, přestože tato konkrétní funkce ještě nebyla zcela otestována. Zmíněná úprava byla úspěšně testována s verzemi 5.00, 5.01 a 5.03

Vzhledem k tomu, že NVDI není volně šiřitelný software a zároveň jej již v této době legálně zakoupit, nemůžeme ani my nabízet upravenou verzi NVDI ke stažení. Přesto si každý uživatel, který již NVDI vlastní (v původní verzi), může provézt úpravu sám podle našich instrukcí. Pro ty z Vás, kteří se raději vyhnou hex-editoru, napsal Ole Loots jednoduchý patchovací program. Další informace a odkazy k jeho stažení jsou dostupné na německé stránce newtosworld wiki. Na stejné stráce je pak dostupný i v německém jazyce psaný návod, jak úpravu NVDI provézt manuálně.


cURL na FireBee
Ole Loots úspěšně portoval cURL na FireBee. cURL je krátký program, který umožňuje přenášet data z Internetu do Vašeho lokálního počítače prostřednictvím několika podporovaných protokolů. Program samotný velmi dobře funguje pod kombinací FreeMiNT, XaAES a bash, bohužel ale má jistá omezení pod samotným FireTOSem, kde neumí stahovat plnou rychlostí. Jako workaround Ole doporučuje nasazení lokální proxy brány a na té pak cURL spouštět. Tato verze cURL je dostupné ke stažení na adrese: curlfire.zip


GPG pro Atari
Bernd Mueller portoval nástroj GnuPG pro operační systém MiNT. gnuPG je volně dostupná implementace programu PGP (Pretty Good Privacy), který byl navržen jako nástroj na šifrování a dešifrování souborů a emailové korespondence. Zároveň pak umí generovat a ověřovat elektronický klíč nutý pro takto šifrovanou komunikaci. Takto tedy máme pro Atari k dispozici moderní a bezpečný šifrovací systém. Momentálně je Atari verze GnuPG dostupná jako utilita pro příkazový řádek, na jejíž GUI se ještě čeká.

K práci také potřebujete textový editor jako například QED, joe, nano apod.

Tento příklad popisuje jak jej používat pod emulátorem Aranym, nebo na distribuci easyMiNT:

Stahněte si archiv

Rozbalte archiv na disk

Zkopírujte obsah archivu do adresáře /opt

Otevřete soubor /etc/bashrc v editoru a přidejte do něj následující text:
export PATH=/usr/sbin:/sbin:/bin:/usr/bin:/usr/local/bin:/usr/X11R6/bin:/root/bin:/opt/gpg-atari/bin

Restartujte bash

gpg-atari.tar.bz2
gpg-atari.zip
Nová chyby opravující verze AHCC
Henk Robbers připravil předběžnou verzi kompilátoru AHC, která opravuje několik chyb vázaných na FPU v překladu pro procesory Colfire. Kdokoliv kdo má o tuto verzi zájem, by měl kontaktovat Henka emailem. Více informací najdete na http://ahcc.atari.org.


Noví členové teamu
Tento měsíc se k našemu teamu připojili přátelé Heinz Schmidt a Marcel Schön. Marcel a Heinz pracují společně na how-to a dokumentaci. Kromě toho, Marcel se chystá portovat nějaký Linuxový software.


Nové betaverze FireTOSu, fireconf.cpx a nová dokumentace
K veřejnému testování byly uvolněny nové verze ovládacího panelu pro nastavení FireBee - fireconf.cpx a zároveň uvolněna i dokumentace pro tento panel. Obé je Vám k dispozici na stránkách autora Didier Méguion. Tento konfigurační panel výborně doplňuje a dokumentuje práci, kterou Didier věnoval úpravám FireTOSu v posledních měsících. Ostatně na jeho stránkách je nyní dostupná ke stažení i nová veřejná betaverze zmíněného FireTOSu datovaná na 27.7.2011 . Tato obsahuje všechny vylepšení a opravy, které byly již dříve popsány v některých z předcházejících zpráv.


Další vylepšení podpory USB
Didier Méquignon před nedávnou dobou opravil dlouhotrvající chybu vimplementaci USB protokolu, která bránila některým USB mass-storage zařízením pracovat korektně. Chyba je způsobena hardwarovou chybou v samotném procesoru Colfire, naštěstí Didier našel způsob, jak tuto chybu obejít softwarovou úpravou. V tomto okamžiku by již všechny mass-storage USB zařízení měla pracovat správně jak pod samostatným FireTOSem, tak pod FreeMiNT. Pod FreeeMiNTem je také možné přistupovat na USB disky ("klíčenky") formátované FAT16/FAT32 na běžném PC, což činí výměnu dat mezi těmito platformami velmi jednoduchou.


Dosažení milníku
V nedávné době jsme dosáhli podstatného milníku ve vývoji FreeMiNTu pro ColdFire CPU. Vincent napatchoval veškerý asm kód jádra, XaAES a nejdůležitějších modulů instrukcemi pro ColdFire CPU. K dosažení tohoto cíle musel analyzovat a upravit celkem 337 bloků programového kódu. A jak už to v takových případech bývá, některé změny byly triviální, zatímco jiné se ukázaly jako velmi obtížné. Výsledkem Vincentova snažení je jádro systému, které nyní nejenže "běží", ale je i plně optimalizováno pro ColdFire CPU. V dalším kroku bude přidána detekce módu emulace CPU. Pokud bude jádrem detekováno emulované 680x0 CPU (což je případ FireTOS), jádro se bude chovat jako dříve. Pokud bude detekován přímo procesor ColdFire (jak jej v systému publikuje EmuTOS), použije se nativní sada instrukcí pro tento procesor (hlavně pro ošetření stavů rte / trap a řízení cache paměti). Očekáváme, že Freemint poběží za několik týdnů i nad EmuTOS.
Květen 2011 Aktualizace stavu
Celý minulý měsíc byl charakteristický množstvím práce na všech frontách projektu. Velká část této práce bylo cíleno na koncové uživatele, přesto z jeho pohledu skryté a možná i nepříliš zajímavé. Každopádně však nastal čas na další porci novinek.
Nové logo pro FireBee
Pravděpodobně nejdůležitější událostí poslední doby bylo konečné rozhodnutí, které padlo v otázce výběru loga pro FireBee. po opravdu dlouhotrvajících debatách se team byl konečně schopen odsouhlasit konečnou podobu loga, takže vám jej konečně můžeme představit.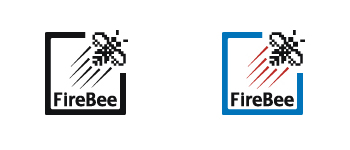 Nově vybrané logo není určeno jen pro značení systémové skříně, slouží jako produktový identifikátor Firebee. Doufáme, že poslouží jako znamení, že Atari platforma nejen že dále přežívá, ale že se vyvíjí společně v moderní technologii. Chtěli bychom vřele poděkovat všem, kteří nás podpořili se svými návrhy, designem a inspirací. Nové FireBee logo je dostupné ke stažení jako vektorová grafika.
color.eps color.svg black.eps black.svg
Vítáme v teamu
Dalším důležitým bodem v pořadí je uvítání a představení nových členů teamu.
Geir Oyvind Validalo nás podporoval od samotného začátku projektu. I proto, že nově obdržel svůj počítač FireBee, se rozhodl se k nám připojit jako plnohodnotný vývojář, který bude na FireBee portovat TTF GDOS.
Jean-Pierre Feicht - zatím relativně neznámá osobnost a "pozdní příchozí", který na poslední chvíli reagoval na naši výzvu odborné veřejnosti z roku 2010. Jean-Pierre je nezávislý grafický návrhář, který se zhostil návrhu propagačních materiálů a nového loga Firebee. V současné době se věnuje návrhu propagačních stránek firebee.org a nově také bude spolupracovat na úkolech svázaných s designem.
Marc-Anton Kehr - díky jeho obdivuhodné práci na Easy-Mintu bude pravěpodobně známý většině aktivních uživatelů Atari. S jeho pomocí bude nejprve připraven nová verze easyMintu určená pro FireBee. Marc se také uvolil pomoci s přípravou a uvedením dlouho očekávaných produktových webových stránek a některých technických detailech.
Ole Loots (m0n0) - v současnosti spíše externí vývojář, který se věnuje portaci webového prohlížeče NetSurf. Po tom, co se věnuje právě této aktivitě, je nasnadě, že se více zapojí také do spolupráce na technické úrovni do vývoje operačního systému a dalších aplikací. Ole je tedy nyní poradcem v teamu ACP, nicméně byl a nadále je velmi nápomocen významným způsobem v aktivitách nesouvisejících přímo s prohlížečem.
Technický pokrok
Velmi mnoho práce bylo uděláno na vývoji FireTOSu. Od posledního vydání novinek bylo uvolněno hned několik nových verzí. FireTos nyní nabízí vylepšenou základní podporu USB zařízení přímo ve svém jádře, což umožňuje připojovat přenosné USB disky za chodu. Restartovat počítač po připojení USB zařízení již tedy není nutné.
Chyby způsobené problémem v překladači GCC a jeho implementaci lwip byly odhaleny a následně odstraněny (načež se tyto drobné chyby zahnízdily v kódu inicializace AC97).
Rozhodně velký kus práce byl odveden na podpoře XHDI. Náhodné pády FireTOSu a záhadné ztráty dat na NEWFATS v kombinaci s MiNT systémem tížily naše vývojáře déle než dva týdny. Po tom co konečeně odstranili tento problém, může být XHDI dále optimalizováno.
Dále vylepšována byla také podpora FireBee ve FreeMiNTu. To mimo jiného zahrnuje také optimalizaci kódu XaaES na procesorech V4e. tento vývoj trval celkem více než rok, než byl skutečně dokončen. Zcela optimalizovaná verze modulu jádra pro XaAES pro procesury Coldfire také přináší zlepšení pro ostatní procesory. Zatímco jisté části kódu jsou napsané specificky pro procesor 6800, všechny části XaAES mohou být kompilovány a tím optimalizovány pro specifické CPU (tedy například 68030).
Mimoto se samozřejmě objevilo spoustu dalších problémů a událo mnoho dalšího vývoje. Jako příklad bychom tak mohli uvést změny v layoutu flash paměti, další objevené chyby v překladači GCC4, ladění rozlišení na VGA a DVI výstupech, problémy s BDOS a IDE, rozhovory s vývojářkou skupinou CodeHeads o uvolnění GDOS+ pod open source licencí, diskuze o použití fVDI nebo oVDI, možné ipmlementaci paralelního portu, lazení ovladače HDDriver, příprava veřejného seznamu kompatibilních aplikací, dlouho odkládaná aktualizace webových stránek, rozšíření vlastností PIC mokrořadiče, atd.
V závěru přinášíme další pozitivní zprávu. V rozsáhlém směřování vývoje celého ACP, všechny programy Svena Kopace jsou natále dostupné a to pod GPL/Artistic licencí. binárky jsou nyní uvolněny jako freeware. Tyto zahrnují například Emailer, PPP-Connect, Income, Alice a 2nd chance.
2011-04-13 Novinky o podpoře USB
David Gálvez, člen ACP teamu, již nějaký čas pracuje na podpoře USB v opertačním systému FreeMiNT. Výsledky jeho práce si můžete prohlédnout na následujícím videu: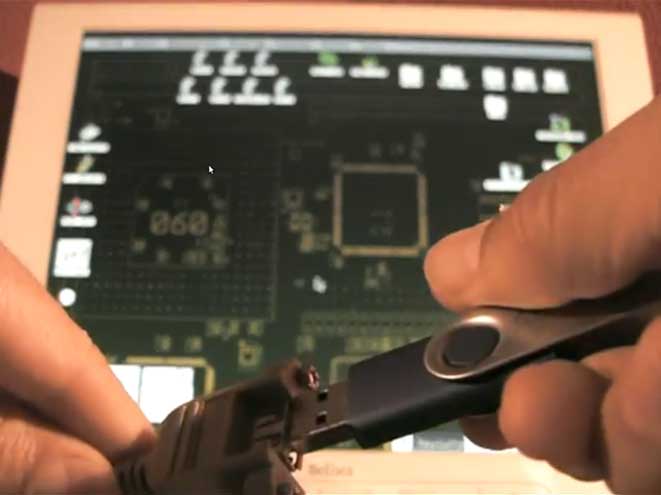 Počítače jako AVI (XviD)
To co zde vidíte, je Davidův USB stack, který běží jako modul jádra operačního systému na počítači Falcon s instalovaným akcelerátorem CT60 a EtetrNat adaptérem. Implementován byl ovladač pro "mass storage" zařízení s podporou XHDI, což jinými slovy znamená, že FreeMiNT může číst Vaše data z USB disků s Atari, nebo MS-DOS filesystémem (FAT16/FAT32) a to ať už s nebo bez podpory dlouhých názvů souborů (VFAT). Tímto způsobem můžete také načítat i Linuxovové oddíly ext2, nebo kterýkoliv jiný filesystém podporovaný FreeMiNTem teď, nebo v budoucnu. Sdílení dat mezi Atari a ostatními platformami nebylo nikdy jednodušší.
Jak sami vidíte na uvedeném videu, USB flashdisky mohou být vyměňovány za chodu a v jedné chvíli může být připojeno několik zařízení současně. USB stack má modulární design, kde obě třídy ovladače (t.j. ovladače pro USB zařízení) a ovladače USB portů jsou implementovány jako externí moduly jádra systému. Správný ovladač se nahraje automaticky v okamžiku, kdy USB zařízení připojíte. Díky tomuto modulárnímu designu bude Davidova práce přínosná pro všechny uživatele systému FreeMiNT, kteří vlastní USB zařízení.
2011-04-06 Thing je uvolněn pod GPL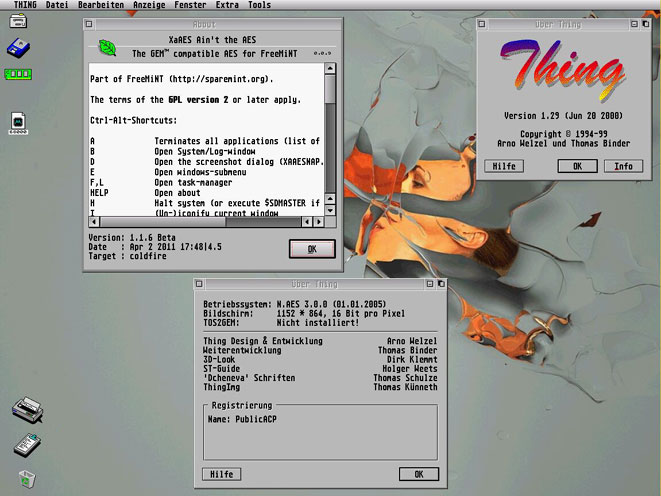 s velkou radostí Vám můžeme oznámit, že jeden z nejpopulárnějších desktopů pro Atari platformu - Thing, původně vyvíjený Arno Welzelem - bude distribuován zdarma pod GPL licencí. Díky pochopení vývojářů Thingu jsme tedy zvýšili počet volně dostupných desktopů dostupných pod svobodnou licencí.
Thing, spolu se svým rivalem Jinee jsou trvale nejlépe hodnocenými desktopy s největší uživatelskou základnou, až do nedávné doby ovšem komerční produkty. A protože jak se podle informací z dalších zdrojů zdá, zdrojové kódy pro Jinnee jsou nevratně ztracené, jeho další vývoj není možný. Nejprve se zdálo, že na FireBee bude dostupný jen původní komunitně vyvíjená Teradesk dektop, tedy alespoň pokud mluvíme o tzv. nativních verzích pro ColdFire procesor. Naštestí se ale autoři Thingu bez rozmýšlení rozhodli podpořit vývoj FireBee a neuvolnili jen binární program samotný, ale i jeho zdrojové kódy pod již zmíněnou svobodnou licencí.
Než se tak ovšem skutečně stane, dávají Vám autoři k dispozici Thing ve verzi 1.29, která je bez registračního dialogu a kterou speciálně pro Vás sestavil Dirk Klemmt. Vývojáři Thing-u právě teď pracují podle následujícího scénáře: Nejprve hodlají sloučit zdrojové kódy z všech současných verzí (1.27, 1.27b, 1.29, 1.30) tak jak jen to bude možné a tento kód pak projde jejich revizí. V následujícím kroku uvolní další 68k binární verzi, tentokrát zdarma a bez nutnosti registrace. Později pak uvolní i tyto zdrojové kódy prostřednictvím našeho CVS na Atari-Forge. Na dalším vývoji se pak budou podílet členové ACP teamu. Přestože totiž současná (68k) verze Thingu běží na FireBee bez problémů, její další portace na ColdFire procesor by přinesla další citelné zvýšení výkonu.
Jsme tedy samozřejmě potěšeni přístupupem tvůrců Thingu a jejich pokročilou spoluprácí a že v jejím důsledku můžeme Atari komunitě přinést tento dárek. A protože Thing potkáte i na nejpomalejších Atari strojích, je to skutečný dárek pro každého z nás.
A to nejlepší nakonec, aby jste mohli používat i Vaši kopii Thing desktopu již teď, zde je veřejný klíč: user "PublicACP": ochl Piie juQd Kg6h kfUW ZiTh zbBr UHbx
2011-04-04 FreeMiNT přichází na FireBee
Díky práci teamu Oliviera Landemarre, Vincenta Riviére a Didiera Méguignona, FreeMiNT a XaAES je nyní spustitelný i na FireBee. Přestože port se nachází ve stavu vývoje a není zdaleka dokončený, jak můžete z našich screenshotů vidět, již nyní pod ním můžete spouštět někter GEM aplikace.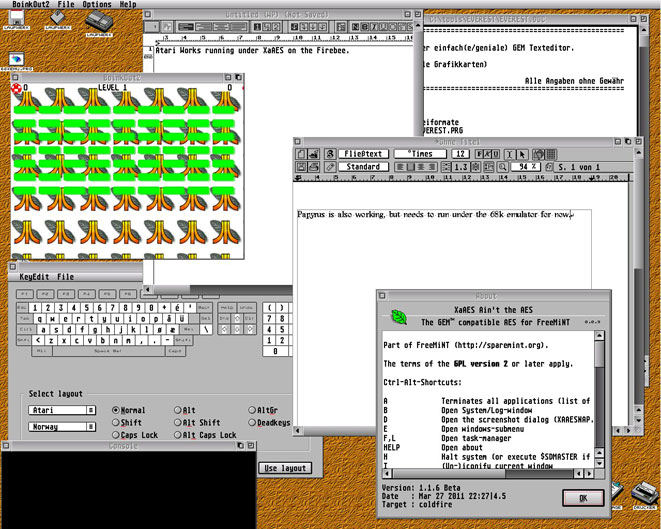 Zde můžete vidět několik aplikací spouštěných pod FreeMiNT a posledním XaAES. Všechny tyto apliace pracují podle očekávání, a navzdory relativně pomalému zobrazovacímu modulu VDI u FireTOSu vše běží velmi plynule. BoinkOut2 dokonce správně přehrává své zvuky ;)
2011-03-10 Spolupráce na využití GNU/Linux
Je velikou ctí pro team projektu ACP oznámit zahájení spolupráce s Gregem Ungererem na aktivitách, které povedou k podpoře FireBee operačním systémem GNU/Linux. Greg Ungerer je jedním z hlavních vývojářů projektu uClinux (Linux pro embedded zařízení), velmi známého portu Linuxu pro procesory, které nedisponují jednotkou správy paměti (MMU). Greg již dosáhl prvního pokroku na FireBee, které jsme mu za tímto účelem poslali do Austrálie, a byl schopen úspěšně na FireBee spustit jádro systému uClinux tak, že jej na FireBee přenesl z vývojového počítače přes ethernet rozhraní. Rozběhnutí jednoduché konfigurace uClinuxu se základní podporou nejdůležitějších zařízení již potom bylo dílem okamžiku. Greg nyní bude pokračovat na portaci plnohodnotného Linuxového systému. Pokud bude ve svém úsilí úspěšný, mohou na FireBee potenciálně běžet plnohodnotné desktopové distribuce Linuxu (např. Debian). Lidé v projektu ACP velmi vítají tuto příležitost pracovat společně s vývojáři "externích" operačních systémů, speciálně těch dostupných pod některou otevřenou licencí. O pokračujícím vývoji linuxového portu pro FireBee Vás budeme nadále informovat.
2011-03-04 Pevně se držte!
Během posledních týdnů se stalo tolik nových událostí, že jsem se bohužel dostali do skluzu s publikováním novinek. Většina z toho, co zde budete nyní číst, by si svým významem zasloužila svůj samostatný článek. Přesto doufáme, že Vás neunavíme čtením takto obsáhlého textu. Příjemnou zábavu!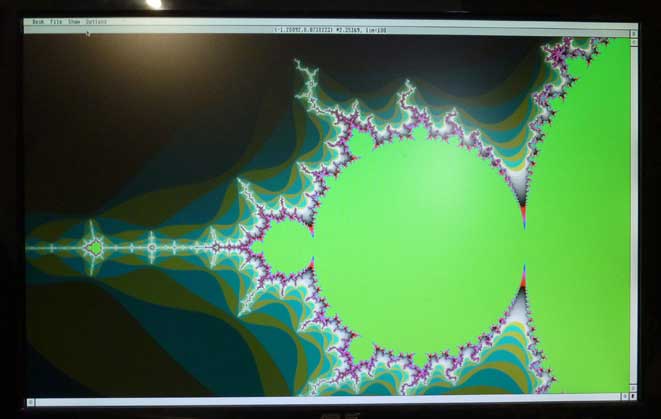 Dodání Firebee do konce roku 2010 by bylo možné, ale bohužel stále ještě pracujeme na dokončení software pro běžného uživatele. Z tohoto důvodu, po malém neoficiálním průzkumu na stránkách Atari-Home a prostřednictvím našeho mailing listu, jsme se rozhodli několik měsíců počkat, než abychom uvolnili produkt, který nepracuje po všech stránkách perfektně a který by tak mohl odradit své uživatele. Lidé, kteří umí zacházet s JTAG a BDS, případně ti kteří se chtějí připojit k našemu programu vývoje si mohou FireBee obdržet už nyní. Stačí, když nám pošlete email.
A nyní několik slov o novinkách ve vývoji:
V průběhu listopadu jsme objevili problém s napájením USB řadiče připojeného na PCI sběrnici. Analýza příčiny této chyby si vyžádala poměrně dlouhou dobu, ale její odstranění se nakonec ukázalo jako velmi snadné. Každá FireBee bude opatřena kondezátorem 1000uF připojeným na obvody blízko napájecího akumulátoru. Po této opravě je nyní PCI stabilní, i když USB stále ještě zcela nepracuje kvůli dalším problémům. Až teprve na přelomu roku se objevila systémová řešení jak pro chybu řadiče USB (chip errata 35, I/O access write cycles), tak i pro grafickou kartu Radeon 9250, připojenou stejně jako řadič USB přes PCI sběrnici.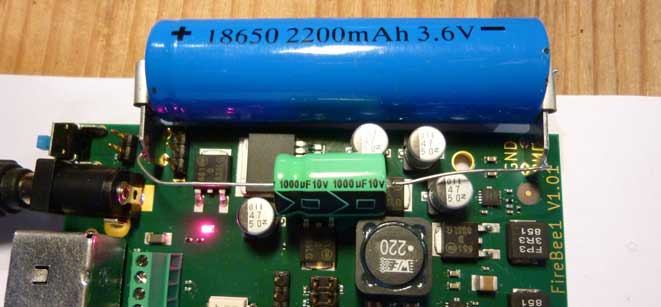 Další oblastí nezbytnou k pokračování vlastního vývoje, kde jsme pokročili, bylo použití dalších externích zařízení, jako jsou PIC programátory a BDM adaptéry. Druhé jmenované zařízení musí bezchybně pracovat prostřednictvím paralelního, nebo USB portu, což si vyžádalo rozsáhlé ladění a testování v průběhu celého prosince. Existují dva důležité úkoly, které by měli být dokončeny před zahájením dodávek. Prvním z nich je vývoj programu na přímou aktualizaci firmwaru počítače, druhou mikrokód pro PIC řadič (ten ovládá PS/2 porty a některá další zařízení). Programování PIC řadič si vzal na starost Alan Hourihane, který je uvnitř komunity velmi dobře znám díky svému PS/2 rozšíření pro Atari "Eiffel". Alan portoval rozsáhlé množství kódu (který MCS vytvořil v průběhu léta a podzimu) z assembleru do jazyka C. Práce na PIC řadiči tedy stále pokračují. Program na aktualizaci firmware byl dokončen na konci roku 2010. Didier upravil svůj flashovací nástroj, původně napsaný pro CT6x, takovým způsobem, že aktualizace TOS na FireBee může být spouštěna přímo z TOSu samotného. Dále pak také upravil utility Xcontrol a CT60conf, které nyní obě spolehlivě pracují i na FireBee. Díky tomu si nyní ve FireTOSu můžete nastavovat různá jazyková prostředí, pořadí disskových jednotek pro start systému atp. Tyto programy si můžete stáhnout z Didierových stránek, jsou uvolněny pod GPL, stačí jen otevřít ve Vašich prohlížečích některou ze stránek http://ct60conf.atari.org a http://ctpci.atari.org
FireTOS samotný prošel ne méně než 5 aktualizacemi od té doby, kdy jsme zde uveřejnili poslední novinky. Frediho ovladač pro SD karty byl začleněn přímo do FireTOSu, nyní je zcel nezávislý na FCPGA! TOS také dostal obecné schopnosti pro síťovou komunikaci prostřednictvím LWIP. Protokoly jako TFTP, telnet a další jsou také dostupné. Do struktury TOSu byly přidány tři programovatelné parametry, aby bylo možné nastavit síťové prřipojení (ethernet) v případě, že je FireBee starována z BaS (base system) a nikoliv z dBUG. MAC adresa ethernetového adapteru také může nyní být nakonfigurována z CPX rozšíření. A jak už také víte z minula, FireTOS má implementovány základní USB protokoly, takže zařízení jako USB myš, nebo flash disk můžete používat již nyní.
Koncem listopadu byla také vylepšena podpora IDE zařízení: nyní mohou 32bitový přístup používat až 3 připojená zařízení. Podpora pro CF kartu je implementována na adresách 0xFFF0'0000-0xFFF0'003F, tedy stejných, jaké využívá primary master IDE zařízení na jiných 16/32 Atari strojích s IDE rozhraním. Aktualizace firmwaru FPGA nám otevřela další možnost přepínat IDE sběrnice.
Od poloviny prosince je FireTOS schopen načítat podporovaná rozlišení z EDID tabulek připojeného monitoru (CRT/LCD panelu) a tyto pak nabízet uživateli. TOS tedy může nyní za běhu přepínat mezi všemi dostupnými rozlišeními monitoru. Jak to vypadá v praxi mlůžete vidět při shlédnutí námi historicky prvního publikovaného "FireBee snippet". Ten si můžete uložit do počítače jako MPEG-4, nebo jej shlédnout online.
Toto, a spoustu jiného, se stalo možným jen díky velmi intenzivní práci na firmwaru pro FPGA, která se udála v průběhu celého prosince. Odladěny a zlepšeny byly z důvodů zpětné kompatibility také rozlišení obrazovky známé z původní řady Atari ST. Byla implementována funkce "Video clock PLL" a časování "Pixel clock" je nyní nastavitelné po 1MHz krocích. Společně s klíčovou aktualizací jádra BaS přinesly tyto aktualizace FPGA firmwaru možnost nastavit počátek videopaměti na jakoukoliv adresu uvnitř ST-RAM. To vyřešilo všechny problémy s kompatibilitou a Atari ST (alespoň co se týká zobrazování). Operace zápisu do videopaměti je nyní rozdělena na oblast "Atari" a "ACP" VideoRAM. Avšak tato aktualizace FPFGA nepřinesla jen vylepšené video, ale jak jsme již zmínili, také kompletní podporou pro ethernet rozhraní a implementuje nové chování tlačítka napájení (0,5 s. zapnutí, 0,5 s. reset, 3 s. vypnutí). Dále pak také implementuje všechny potřebné zdroje hodinového signálu (celkem 20) potřebné pro běh FireBee. Všechny tyto generátory byly patřičně odladěny. Procesor počítače FireBee nyní běží na stabilních 264MHz.
V neposlední řadě přinesla aktualizace FPGA také vylepšenou podporu práce s jednotkou pružných disků (FDD), díky tomu nyní můžeme pod FireTOSem přistupovat na diskety s vysokou hustotou zápisu. Stále však ještě existují problémy se zápisem na diskety standartu DD, které je potřeba vyřešit. Na druhou stranu se povedlo v polovině prosince vyřešit i několik dalších chyb v implementaci FDD, které se objevili v EmuTOSu.
A pokud už hovoříme o EmuTOS, byla uvolněna po našem posledním článku uvolněna nová verze, která pracuje kompletně bez použití MMU. To může být užitečné pro celou řadu referenčních testů, případně pro běh plně optimalizovaného systému založeného na ColdFire procesoru (jako je FireBee). Na druhou stranu k zajištění plné kompatibility s Atari je podpora MMU nezbytná.
Dalším velmi zajímavým krokem ve vývoji, který bychom Vám dnes rádi představili, je prototyp našeho malého zakázkového chassis pro FireBee. Celé chassis je jen o něco mále větší, než dve vedle sebe ležící 3,5" pevné disky. Naším cílem totiž bylo vyvinout pro náš počítač jen tak malé systémové chassis, jak je to jen vůbec možné. Její současný design zahrnuje použití několik indikačních LED, jednoho reproduktoru, místo pro CompactFlash cartu, úložiště pro druhý akumulátor (se dvěma akumulátory vydrží FireBee běžet hodinu bez potřeby připojení externího napájení), prostupy pro kabeláž externích konektorů a jednoduchý způsob, jak celé chassis rozebrat bez použití nástrojů. Její základní konstrukce totiž může být rozložena na díly uvolněním jediného šroubu s rádlovanou hlavou, zatímco FireBee zůstane nadále pevně přichycena k jejímu spodnímu dílu. Momentálně také zvažujeme, zda do konstrukce přidáme vodící lišty pro 2,5" HDD a SATA port. Samotné chassis je prosté ventilátorů a při použití CompactFlash karty je také bez pohyblivých částí. Proto je dokonale tiché.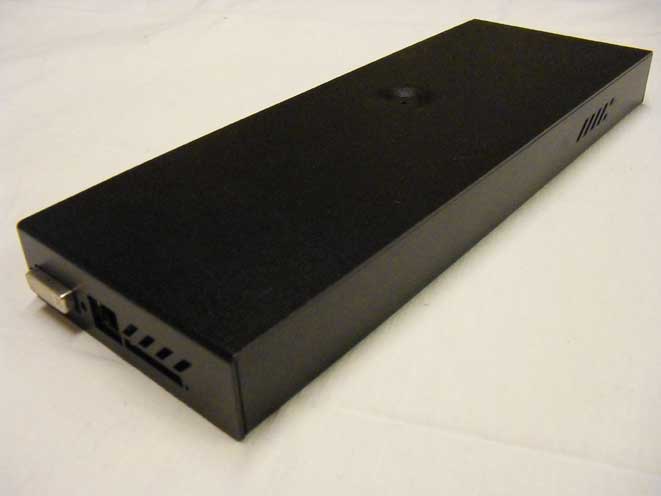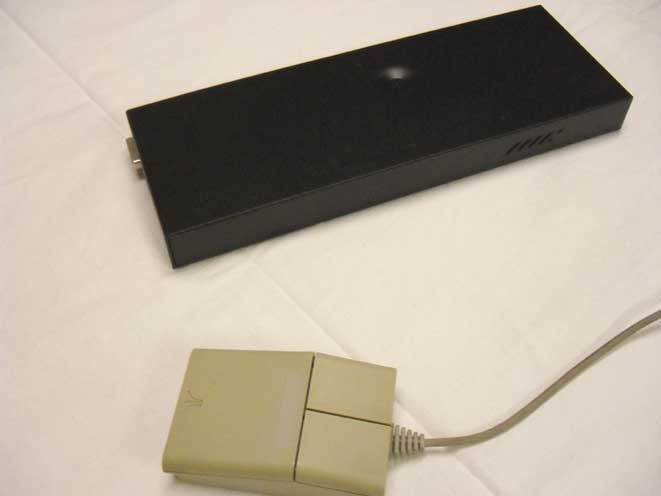 V brzké době Vám k našemu novému chassis přineseme mnoho dalších informací.
Ladění přes seriový port: Nově je možné nastavit bootovací nabídku Rsconf pomocí CPX modulu (v nabídce je 16 základních rychlostí přenosu shodných s normou HSMODEM u Atari Falcon030) a tak provádět debugging systému přes null-modem interface za použití některého host programu jako například KiTTY, minicom, ZOC, nebo Hyperterminál.
Začátkem dubna byla objevena chyba ve struktuře a nastavení NV-RAM.
Zorro oznámil, že končí práce na jeho desktopu zDesk. Následovala veřejná debata, do které se zapojilo několik už, kteří si přáli pokračování vývoje nikdy neuvolněného zDesku, jejímž výsledkem bylo uvolnění zdrojového kódu programu pod GPL, stejně jako byly uvolněny všechny předchozí aplikace autora. Zdrojový kód je nyní dostupný na Atari-Forge.
Byly publikovány dvě nové verze AHCC. Známý GPL kompilátor/assembler Henka Robberse je tedy nyní dostupný již ve verzi 4.4
Také byla uvolněna nová verze MyAES (0.9.3), která je volně dostupná z Olivierovi stránky.
V polovině ledna Vincent opravil GCC tak, aby obsahovalo použitelnou knihovnu matematických funkcí pro procesory m68020-060.
Pro Gem-View je dostupný patch Lonny Parsella, který je založen na předchozí práci Guillame Tello. S tímto patchem by aplikace měla okamžitě pracovat na FireBee v momentě, kdy pro něj bude dokončena portace systému MiNT.
Didier velmi zapracoval na implementaci AC%9297 kodeku. To vedlo k několika dalším možnostem, které bychom Vám však představili separátně. Nyní však už můžeme říct, že MP3 audio již může být dekódováno čistě procesorem a GSBX mixer bezchybně pracuje včetně ovládání všech výstupů dostupných na FireBee.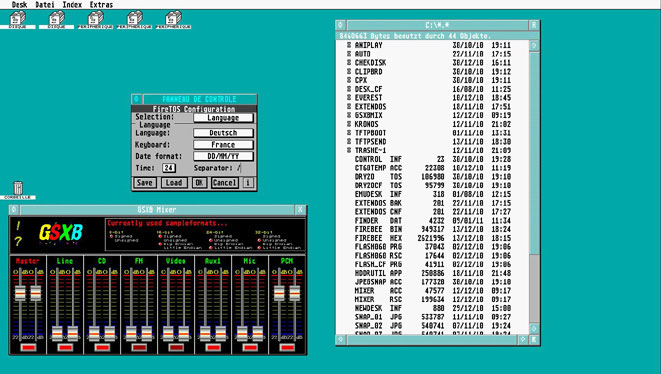 Další velmi důležítou událostí, která jak doufáme některé z Vás potěší, jsou uživatelské aplikace. Momentálně probíhá testování programů HDDriver, Calamus a Netsurf.
Již dříve proběhla portace hry Doom pro GEM, který běží uspokojivě, stejně jako raytrace program POVRay.
Ještě zajímavější by pro Vás mohlo být následující:
S nedávnou implementací emulační knihovny cf68klib běží čistě (!) napsané 68k aplikace tak jak jsou, bez nutnosti rekompilace. Abychom vyjmenovali několik příkladů, jmenujme QED (3 a 5), Wdialog, ST-Guide, STING, Packman (verze pro GEM), Atari Mouse Accelerator, nebo Papyrus. Pro ilustraci přikládáme několik screenshotů aplikací strikně programů napsaných pro procesory Motorola 68k, spuštěných na FireBee pod FireTOSem bez úprav či patchů.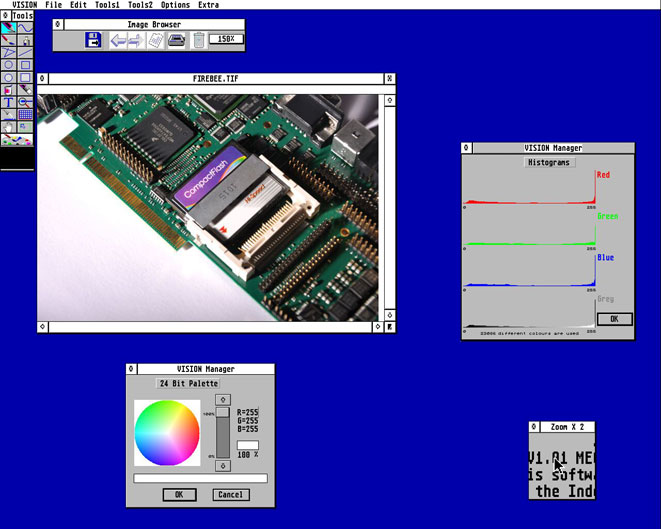 Vision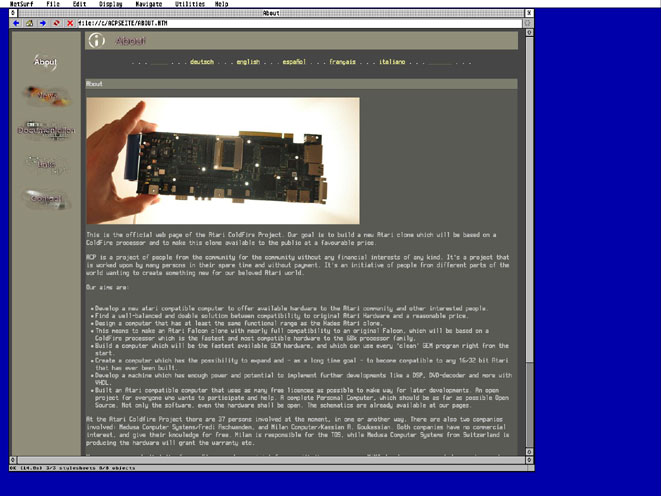 Netsurf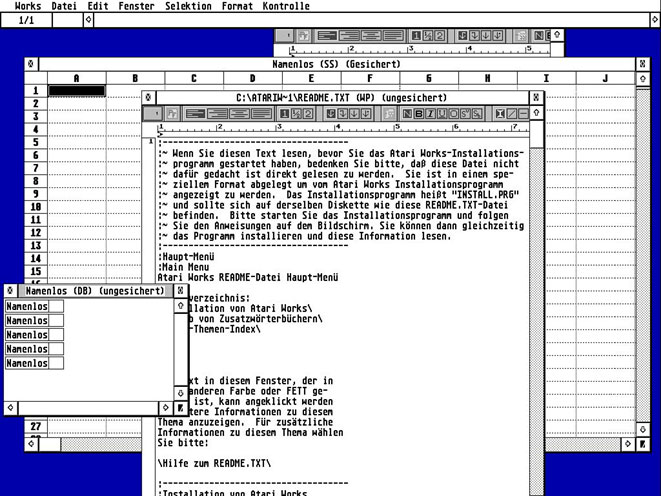 Atari Works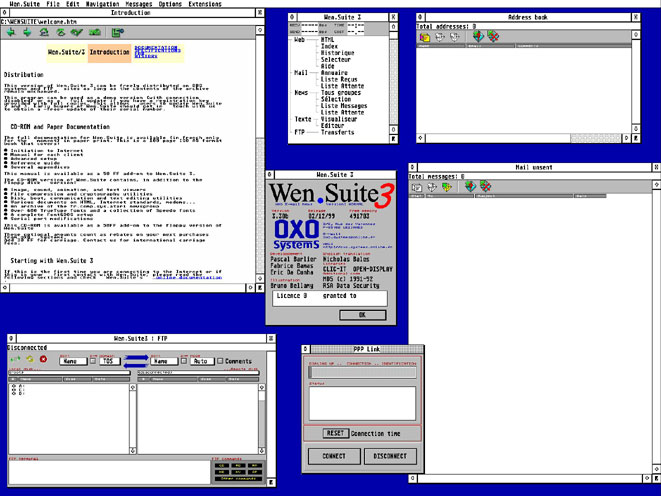 WenSuite



Thing Desktop


V neposlední řadě pro Vás máme také dvě novinky, týkající se naší webové stránky:
V osobě Pavla Salače jsme získali nového člena do našeho teamu, který je nyní zodpovědný za překlady textů do českého jazyka. Pavel má další znalosti, které se v nadcházejících měsících promítnou do vývoje ACP projektu.
A nakonec - sekce odkazů na naší webové stránce se v závěru roku notně rozrostla, přesvěčte se na vlastní oči. jsme přesvědčeni, že i matadoři Atari scény si zde najdou něco nového
2010-11-18 Protože se na projektu událo opravdu velké množství změn, následuje výčet toho, čeho jsme poslední dobou dosáhli:
Vincent opravil kód EmuTOSu tak, aby zarovnával operační kód a Malloc() buffery do struktury násobku 4-bytů. Tím dosáhl, aby programy nad takto upraveným EmuTOSem běžely vždy optimální rychlostí. V každém případě, přístup k 32-bitovým hodnotám je vždy značně rychlejší, pokud jsou tyto řazeny ve 4-bytové struktuře.
Fredi dále pracuje na problému s padáním systému při přístupu na IDE rozhraní v long-acess módu.
Henk se rozhodl věnovat se vylepšení VDI uvnitř EmuTOSu, čímž zpřístupníl pro VDI možnost použít grafické módy s 8 a 16/24/32 bity na pixel. Mezitím Didier také implementoval I2C protokol do prostředí FireTOS, čímž v něm zpřístupnil automatickou detekci vlastností připojeného monitoru. FireTOS nyní může zobrazovat v rozlišení až 1920x1080!
Zpřístupnili jsme CVS systém na adrese http://www.atariforge.org/gf/project/firebee, kam vývojáři pozvolna uploadují jejich práci.
David viditelně pokročil v práci na podpoře USB v systému, kdy se snaží zajistit kompatibilitu jím vyvíjené USB vrstvy mimo jiné také s NetUSBee!
Didier a Fredi odladili USB hardware (přerušení řadičů OHCI1 a OHCI2) a výsledkem jejich snažení jsou USB klávesnice a myš fungující pod FireTOSem! V dalším kroku se začali věnovat podpoře pro USB mass storage zařízení
Vincent a Fredi implementovali vrstvu emulace chyb sběrnice, takže nyní už lze spouštět programový kód, který je na této vrstvě závislý (například rutina detekující připojený hardware). emuTOS nyní také umí zobrazit srozumitelnou chybovou hlášku spolu s výpisem registrů, když například špatně napsaný program zkusí přistoupit mimo jím alokovanou paměť.
Vincent odhalil příčinu nechvalně známého zpomalení BaS: Cache paměť nebyla nastavena optimálně (write-through namísto správného copy-back), nyní již EmuTOS s BaS běží plnou rychlostí!
Didier je schopen nativně spouštět Kronos se všemi dostupnými testy s vyjímkou testů AES
Didier a Fredi odlaďují chyby v napájení na PCI sběrnici. Didier se ukázal jako nefalšovaný Atari maniak, když napájel 240 vodičů z nepoužívané CTPCI propojky, jen aby mohl Fredimu obstarat potřebné výsledky. Fredi potom nakoupil nějaké PCI patice, takže k tomu, aby odhalovali příčiny dalších potenciálních problémů, už nebude potřeba žádné další šílené pájení
V neposlední řadě se novinky udály i na poli vývojových prostředích: AHCC nyní běží nativně na EmuTOSu bez další emulační vrstvy a Henk očekává, že AHCC bude schopno rekompilovat své vlastní zdrojové kódy v ColdFire módu! Henk také začal pracovat na začlenění vlastní instrukční sady procesoru ColdFire, aby dále zrychlil běh systému. Nyní tedy máme tři kompilery produkující nativní ColdFire kód. VBCC a AHCC již mohou být spouštěny přímo na FireBee, zatímco GCC stále ještě musí běžet jako cross-compiler na jiném stroji.
2010-10-16 Další novinky
Byla dokončena výroba zbývající části první série a vyrobené kusy byly doručeny do Medusa Computer Systems.
Na základě videa, které uveřejnil Fredi, se objevilo několiv připomínek a námětů. V souladu s nimi jsme upravili chování napájecího tlačítka: k nastartování počítače z vypnutého stavu dojde držením stisknutého tlačítka po dobu 0,5 vteřiny, u běžícího počítače dojde držením stisknutého tlačítka stejně dlouhou dobu k restartu systému, pokud budete držet tlačítko po dobu alespoň 2,5 vteřiny, dojde k vypnutí počítače.
Pokračují práce na ovladači pro USB: David Galvez navázal na práci Didiera Mequignona svým ovladačem pro XHDI mass storage zařízení a pokročil do stavu, kdy všechny souborové systémy podporované MiNTem na USB zařízení bezchybně pracují (FAT12, FAT16, FAT32, ext2).
Alan Hourikane si vzal na starost implementaci podpory pro PS/2 zařízení a adaptuje Eiffel na náš PIC. To ve výsledku znamená, že základ prací na PS/2 je nyní hotov.
Henk Robbers publikoval novou verzi AHCC překladače, která nativně běží na ColdFire procesorech.
Došlo také k portaci VBCC kompilátoru na ColdFire externím vývojovýt teamem. Momentálně tedy pro ColdFire existují cílová prostředí již jak pro TOS, tak pro MiNT. V blízké budoucnosti bude pro FireBee existovat i nativní port VBCC
O vývoji nové mini-skříně pro FireBee jsme Vás již dříve informovali. Na konci příštího týdne vyžádáme od vídeňského dodavatele první prototyp.
2010-09-26 TOS v ruském jazyce
Je nám potěšením oznámit, že Дима Соболев (Dima Sobolev) ukončil práce na překladu EmuTOS do ruského jazyka. Díky tomu budeme moci expedovat FireBee s prostředím zcela lokalizovaným do ruštiny, jelikož i Teradesk je nyní již dostupný v ruské jazykové verzi. To je vůbec poprvé, kdy je některý ze seriově vyráběných Atari klonů dostupný jak se znakovou sadou Cirilice, tak s kompletně přeloženým operačním systémem a desktopovým prostředím. Doufáme, že tato skutečnost učiní Atari platformu více atraktivní pro potenciální uživatele v Rusku, na Ukrajině atd. Pro některé uživatele tato událost umožnila se s platformou seznámit vůbec poprvé. Vývoj této jazykové mutace začal nejprve uvnitř ACP teamu, ale nakonec se většinou odehrál uvnitř vývojového teamu EmuTOS. Díky takto sdílenému vývoji nyní může být nová jazyková platforma dostupná i v emulátoru Aranym a na ostatních Atari platformách. To je jeden z příkladů, kdy náš projekt pomohl se zlepšením stavu pro celou Atari 16/32 komunitu.
S radostí Vám přinášíme fotografie dvou různých serií jedné základní desky počítače FireBee.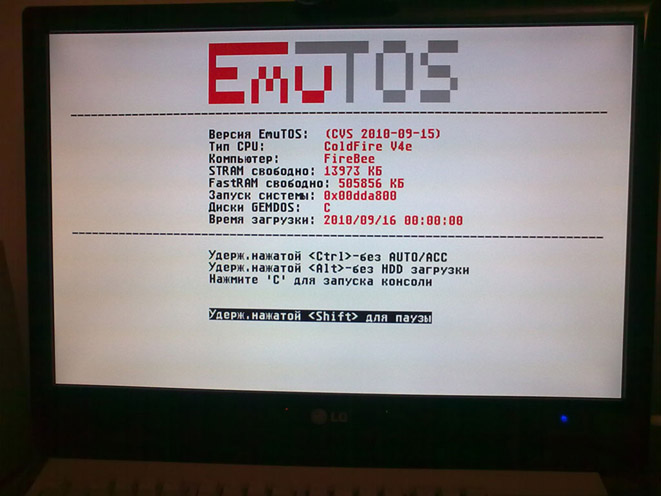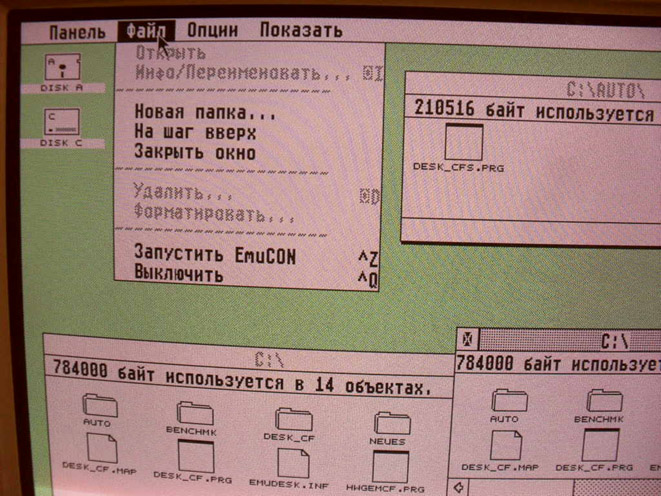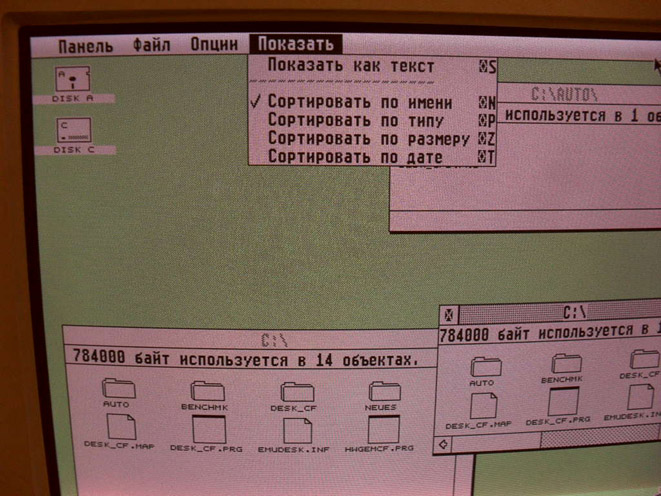 2010-09-16 The summer finally draws to a close, so here is the news:
First the bad news; In addition to the production delays, the first 24 boards have a small fault on the PCB. KiCAD (the printed circuit board application, which we used for the PCB layout) filled an area over the Vias in an undesirable way. Therefor the PCI-Bus does not work correctly. These boards will be fixed by hand. The rest of the series will not have this fault, it has been corrected at the production level.
The good news: The first boards have been sent to software developers. Due to the production delays we now have an unanticipated situation, something like a "developer series" ;) On the software side we recently work on the base system, the 68k-handler, the PIC (Real-Time Clock, PS/2, ...), the DSP in VHDL, the USB driver, the adaption of MiNT and the native ColdFire compilers.
Our team has grow again. More than 50 people now contribute their knowledge and spare time, to advance the start of the FireBee and to continuous further development. The new members will be presented here soon.
A new aspect of the ACP which has moved forward that we can expect real achievements, is our custom case production. This is an often asked question from future customers. And now we are ready to say, that at the end of the year the first mini custom enclosure made exclusively for the FireBee will be offered.
The last positive information for today; The question of licenses for the hardware will now be concluded shortly. The schema, which has been available for more than one year freely down-loadable from our site, will be released under GPL/LGPL or a similar hardware license. The layout of the board will be released under Creative Commons BY-NC-SA. Therefor our computer can now indeed be refereed to as Open Hardware.
Last but not least, we would like to present a short video in which the initial operation of the FireBee is explained:
The original can be downloaded (size: 220MB):
or you can watch it directly
2010-09-07 Photos free of charge



All Photos of the FireBee 1 series by Barbara Brandstätter, 2010-09-03, "Creative Commons BY-NC-SA". Additionally printable free of charge, deposit copy requested.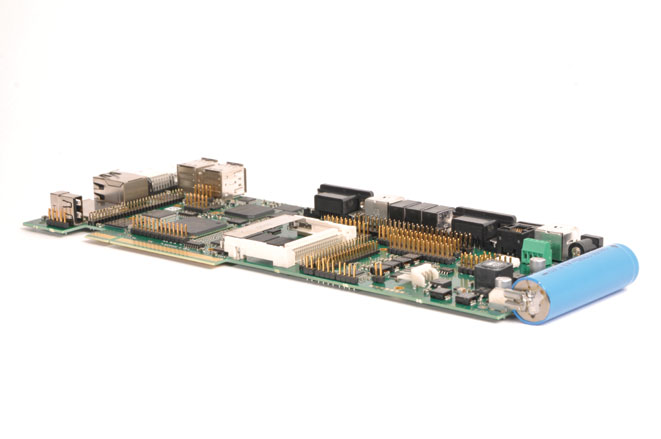 Photo 1 high resolution (CMYK, 3,3 MB)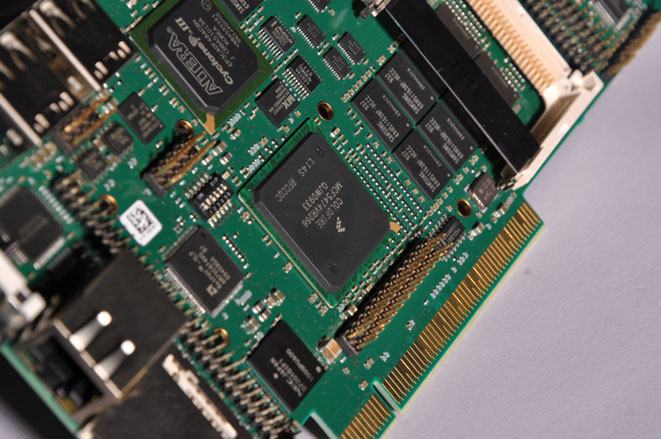 Photo 2 high resolution (CMYK, 6,3 MB)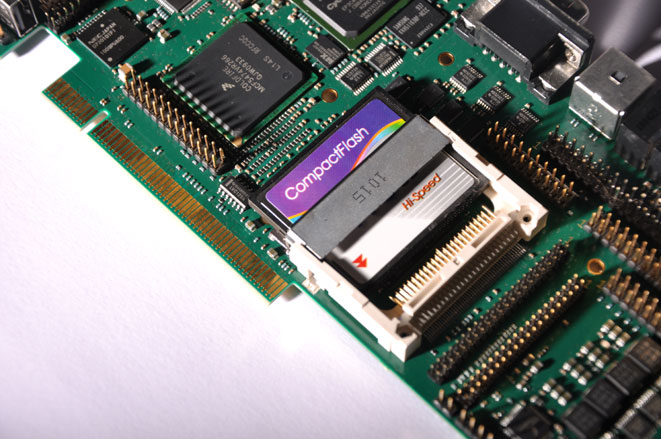 Photo 3 high resolution (CMYK, 5,8 MB)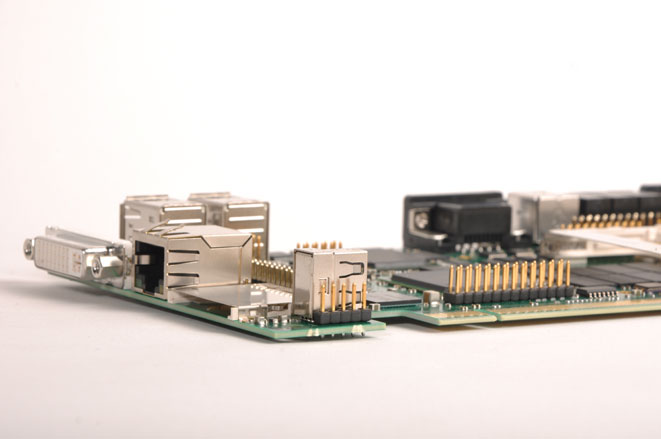 Photo 4 high resolution (CMYK, 5 MB)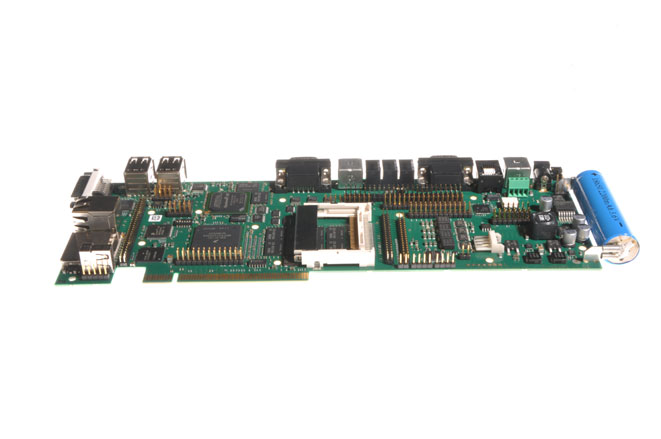 Photo 5 high resolution (CMYK, 3,9 MB)
2010-07-09 Production Delays
At the production of the first series in the first half of June, our swiss assembling company had a huge rate of rejects. They got a problem with the very close conducting paths, and had a real production failure at the PCB production. Because Fredi Aschwanden from MCS controlled the boards, we could identify the fault before the parts got assembled. So we have 24 boards working correctly, which got assembled in the last two weeks and will arrive at MCS within the next week. This one will go to developers quickly, after implementing the basic software for initializing the hardware. For the rest of the series we get full compensation. As they made a real fault at production of the first series we get the complete series without any further costs, but with a delay of 4 to 6 weeks. So the first boards for customers will not be delivered in July. None of the defect boards will leave the Factory, they will not be repaired. New PCBs will be produced by our contractor.
We are glad that we chose a swiss company which is granting the normal warranty of two years to all hardware production mistakes, and will deliver without problems the complete series as agreed. The warranty of two years also counts for boards delivered to customers. As this question often occures at forums or mailing lists, we like to assure you that you get full hardware warranty for your computer, as usual in Europe.
Sorry for the delay!
2010-05-30 AHCC 4 and TeraDesk
On May 27th Henk Robbers published version 4 of his Pure-C compatible AHCC compiler. This is - to our knowledge - the worlds first development environment which is able to create programs that can be executed on ColdFire CPUs as well as the 68020, 030, 040, and 060 processors.
As "proof of concept" Henk Robbers recompiled TeraDesk using AHCC. Therefore, TeraDesk is running ColdFire optimized at the full speed of the FireBee prototype. The same Binaries are executable on the 68020 and up.
Both TeraDesk and AHCC are published as Open Source projects.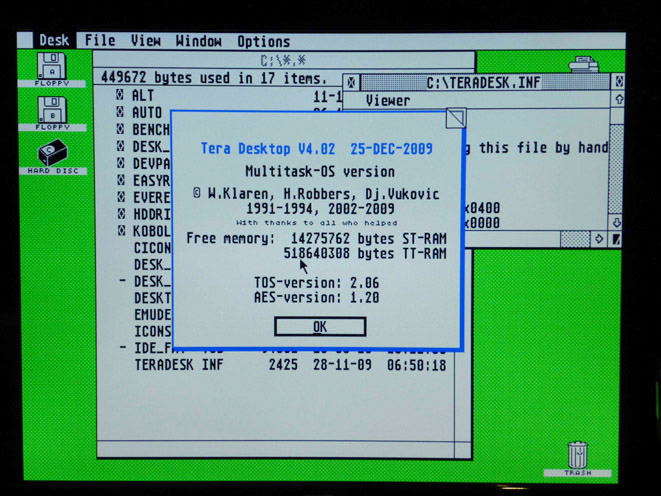 Here you see a photo from the 21st of May 2010 with TeraDesk optimized for the ColdFire V4e running on one of our prototypes.
2010-05-17 The first FireBee series is now in production!
A few weeks ago we sent the production order to our swiss manufacturing company to produce the first FireBee series. The assembling company has reported back with a positive report about the part sourcing. All parts will arrive in Switzerland by the 4th of June. Also, the multilayer PCBs will be produced by then. On the 7th of June, Medusa Computer Systems will oversee the boards and the layout on-site, directly at the assembling company one more time. Beginning on the 8th of June, the first FireBee series will be produced. Subsequently, we will need further weeks to implement the software.
We will deliver to developers and pre-order persons with a high level of technical knowledge as fast as possible. All other end users will be sent their FireBee in the 2nd half of 2010. We once again, want to explicitly thank all of you, who already by August 2009, through your advance payments made the new Atari-compatible hardware possible, and thereby made the production possible as well. You showed us, that you are willing to push the development forward, together with us.
The first series of FireBee computers are still available for Euro 599 directly at our site.
2010-04-22 Prototypes Update

Flash-Rom is fully working. EmuTOS and FireTOS is basically bootable.
BDM-Header is tested and working.
Coldfire processor is operating.
PCI-Bus is tested and working (Nec), "Direct Edge" is untested.
Ram is operating perfectly, all 512 MB acessable from within TOS.
IDE/Compact Flash is working now, driver ok, booting of Teradesk from CompatFlash ok.
ROM Port is working.
AC'97 is working. At the moment it is possible to send ST-Sound from the YM-2149 to the AC'97, mix it with any 2nd source and output it to "Sound Out" or "Audio Out (onboard)".
Floppy disk drive, is running after some huge work. At the moment for HD. Wolfgang Förster and Fredi Aschwanden will solve timing issues inside the FPGA that it also works for DD.
Game Port is measured and connected correctly.
Akku is working (including charging electronics).
PS/2 is measured, but no PIC software at the moment is present, so we didn´t test it.
Atari Keyboard is working (development takes place with original Atari keyboard and mouse).
Sound IN/Sound OUT is tested and working correctly (see AC'97).
Highspeed serial is tested and ok.
128MB video- and special RAM are accessable and usable by the FPGA correctly.
FPGA is operating correctly: already implemented Atari chips are: MFP, ACIA, Ajax, YM-2149, Glue, SCSI, Videl. The Graphic System is configured with 4 different palettes (all ST-, all TT-, all Falcon- and the new ACP resolutions). A switch between all 4 different glue implementations, while the computer is running is already possible. DSP and Blitter are missing so far.
DVI-I is running. Both DVI and analog connections are tested and working very well.
Ethernet is also running, some network functinallity is already possible with FireTOS.
SD-Card is working without the FPGA, this means using the SD-card for ROM flashing could be possible.
USB all 6 connector (4 external, 1 internal or internal via connecting plug) are tested and working well. USB input device and mass storage are already working in FireTOS.
All other interfaces are connected to the FPGA and thus there is no need for extensive testing, pins could be changed by software. Most remaining interfaces are "just" measured once.
Power consumption The prototypes are recently running with full power. All parts get the maximum possible energy and first test showed that the board needs 12 Watts. We belive that we can save much energy by shutting down unused parts by software, and by optimizing the FPGA configuration. But it seems that we will never achive the last year aspired 3 Watts.
DC/DC converters The DC/DC converters are changed now. After the old one started with a wrong documentation, what leaded to one dead prototype, as one pin which should be "not connected" was documented as "GND", the other converters also made some problems. We therefore changed all DC/DC converters (7 different voltages are needed) to the Nec LM2854. The operation by hand, at one of our prototypes succeeded without harming the board, and tests with the NEC worked great! So the series will now be produced with the new converters.
The board is ready for the first series. Small changes at the layout of the conducting paths have to be done now, as some are to near to each other for a series (what was not such a delicate thing at the 3 prototypes). The factory already started to order the needed parts. And final ordering of the first series will happen soon.
2010-03-19 Frank Naumann has passed away
Today we received the sad news that our co-developer, Frank Naumann, has passed away on the 12th of March, 2010. Frank was well known for his brilliant work with FreeMiNT by almost every person inside the Atari community. He supported the Atari Coldfire Project from the beginning, and wanted to help with software porting and optimization for our new computer. The Atari community adopted the idea of Open Source mainly through the selfless accomplishments of Frank Naumann. Now others have to continue his work, what was made possible by Frank's vision. However there will be a big gap inside the small Atari community because of his incredible knowledge and his understanding of the Atari Operating System.
Frank left us much too early at the very young age of 34 years. In the Atari community he has made a name for himself and he will not be forgotten, as every machine booted will still display his name well into the future. Frank will be missed by many. Also the Atari Coldfire Project has lost a team member with outstanding knowledge.
Our thoughts and compassion go out to his family and his close friends.
2010-03-01 The Official Name
We are proud to announce, that the community decided for a name of our computer. Firebee is from now on the official name of our hardware.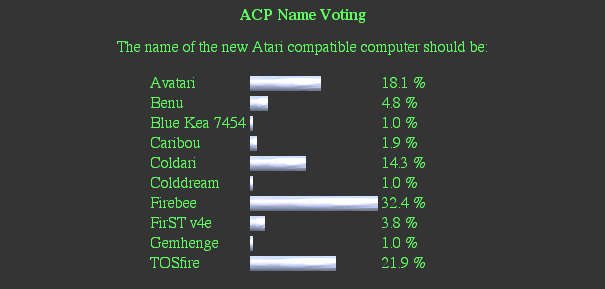 2010-02-23 Switch to a New Vote-System
The poll system we´ve been using till now is not the best one, as several people recognised. That´s why the team decided to switch to another vote-system with an extra mailconfirmation, to make it harder for those of you who like some names so mucht to vote hundred times for it. ;)
The vote for the name of our new computer is now extended to February the 28th. Please everybody vote again for your favorite name. This time you have to confirm your vote via E-mail before it will be counted. The email adresses won´t be used for anything else than the vote verification. After the vote all of them will be deleted, we do not collect them.
The official name will now be published after another week of poll at 1st of March. Sorry for the inconvenience!
2010-02-11 The voting - till 20th of February
It's getting serious: now you got the chance to vote one out of the 10 following proposals which arrived us through the community to find the name you would like to give the future ACP Atari compatible computer. You have exactly one vote, which you can place at your favorite name. First we will introduce all the nominations to you. Below you can vote by clicking your proper link.
All votes will be counted until 23:59 o'clock on 20th of February. On February the 21st the official name under which the computer will be produced es presented. Here are your possible choices:
Avatari
Care about palingenesis? Will the computer be a heavenly aspect, which is taking shape, or has "just" someone sent us the power to be able to achive ministration at a special mission? Avatari deflects from Avatar, what %96 in the indian mythology - means the personal manifestation of a divinity. In this case the reincarnation Ataris, the god of the Atarians.
Benu
Or a resurrection from the own ashes? In the ancient Egypt men saw at sunset a Falcon, which was new born during the sunrise as heron. Hence developed Benu, the denomination of an ancient egyptian god of the netherworld, also the soul of the god of sun Ra. The myth tells that every several hundred years the Falcon incinerates at sunrise, to resurrect in a tapered way from his own ashes, and fly aloft skywards.
Blue Kea 7454
The attributes to transport are: speed, intelligence, versatility and low power consumption. Kea, a New Zealand parrot which is one of the most intelligent birds around is definitely the best tool-user and most mechanically adept. The story goes that if you need your car disassembled, just park it near a colony of these birds and a week later you can collect the parts. On top of this the Kea has been extensively hunted, due to the fact that this starling size bird hunts and kills sheep. An intelligent and versatile hunter!
Caribou
Caribous are forceful animals out of the family of deers. Since around 1000 B.C. this persistent animals are used by humans in the far north, however there are living more of them in the great outdoors than there are breeding animals in existance. Caribous are naturally smaller than cows or horses with their 1.4 m, but get utilized many-sided as pack, draft animals or meat suppliers %96 even exclusively by some humans! The particular about caribous: they are the only ones of their class, which ever could be domesticated by humans, they become furthermore breeded and utilized even if this is not mainstream, caribous live under coolest environments. Caribous typically live up to 15 to 20 years, and young caribous become extremely fast self-consistent.
Coldari
Coldari is our internal project name for the board. Already in December 2008, still before a team was in existance, Fredi Aschwanden had this idea - but he was not completely confident. The decision for a good name was adjourned, and like history goes, the name Coldari has somewhat established. Several people took the name into their hearts in the meanwhile, and some even think that it should be tied up to the last 14 months - after all our prototypes bear the name Coldari...
Colddream
A dream comes true, ... at least for some of you. Nobody had expected that after more than ten years someone succeeded in creating an Atari-compatible again. One of the outstanding features of the board is for sure the coldness - no single heat sink and no fan is applied. A ColdFire, what more could be said, ...
Firebee
It's not a raptor but it's flying as well! The bee is probably one of the symbols par excellence we are connecting with our Ataris. If it is busy and appears instead of the cursor, we are waiting with any further input till the bee has disappeared. Our computer will appear to some extent for us like a bee with a mighty swift kick in the butt. A Firebee, hardly to see anymore, ...
FirST v4e
Our first computer will be built soon. That's why FirST could be a good decision. Also this name could remind users about the famous ST Computer - and more a Fire ST, like the bee with much fire inside. We'll for sure see an Atari compatible computer with a Coldfire processor, and run our ST software on never-before known speed.
Gemhenge
Something "old" and a little bit mystic (maybe some features the most people don't know). Made of robust material, to rest for the upcoming milleniums, and resist everything what may come. A building for our beloved GEM - a Stonehenge for GEM - as gems are stones and gem in Danish means "save".
TOSfire
TOS is our Operating System. There are still people outside who love this singletasking system and the easiness it provides. It's simply working. That's why we will deliver the computer with a TOS licence, and keep an eye at the development of our basic Operating System. The Coldfire will bring much fire again to our TOS - a TOSfire machine under guarantee!
2010-02-10 Propositions of names
ACP Team would like to say thanks to all people who joined the process of name finding. Altogether you sent 183 proposals 173 of which we couldn't take into the final list.
From tomorrow on you'll find the best ten ideas at this place and have the opportunity to vote for the final name. For the most ideas which couldn't take part in the final voting there already existed brand or product names, or there had already been a copyright on the name. This really was a pity with some of the names, such as 'Leningrad' which is a ZX-Spectrum Clone, 'Colibri' being a Colibri-board or 'AINA - AINA is no Atari' being the IEEE International Conference on Advanced Invormation Networking and Applications.
For documentation here are all proposals which did not reach the final voting round:
@-R-E, Aarcti, Aarctic, AartiC, Aarctik, Aarctiq, Abroad, ACF 5400, ACM - Atari Coldfire Machine, ACP, ACP 1, ACP 010, ACP 474 ST, ACP 512, ACP-700, ACP 2010, ACP BEE-EATER 010, ACP BEE-EATER 2010, ACP BEE-FORTRESS 010, ACP BEE-FORTRESS 2010, ACP Cold ST, ACP Cougar, ACP Falcon Pro III, ACP Fire ST, ACP Hellfire, ACP Kea, ACP Koldbrann, ACP ONE, ACP ULTOS M 010, ACP ULTOS M 2010, ACP ULTOS 010, ACP ULTOS 2010, AINA- AINA is no Atari, Alinka, Ataconda, Atacondor, Antarctiqq, Antarcticc, Artic Lava, Artic Magma, Artic Vulcano, Arcticc, Arctiqq, ATARINA, Ataspic, Basilisk, bennu, Blizzard, Bluedream, Catari, CGM Coldfire GEM Machine, CGP Coldfire GEM Project, CCS - ColdfireComputerSystem, Cirata, CLDFRE, Colda, Coldac, Coldak, Coldarko, coldbird, coldboard, coldbox, Coldias, Coldiak, Coldibrik, Coldibriq, Coldic, Coldina, Coldinka, Colfir, Coldfirek, Cold Turkey, Colibri, Coldibri, COLTARI, Coltari Falcon, Comet v4e, Condor, Coolfusion, Cooltari, C/Fire, C-LDA, ACP Critter, Difference, Dream, Dreamfire, Eisvogel, Facepower, Falcon V4e, (acp) firebird, Firebird, (acp) firebox, FireGEM, FreeNet, Frenchfree, Fujiboard, Fujijama, Fujiyama, Gather, GemFire, GigaST, GoC - GEM on Coldfire, Goticc, Harrier, Hawk, (ATARI) HCS - HomeComputerSystem, i@Re, iceDream, Icefuji, Falcon - ColdFire Falcon compatible, iceGEM, Icehawk, Ice Kea 7454, IceTos, iDream, Incendia, I N C I T A R I, IrataC, iSpirit, Kestrel, Kolibric, Kolibrik, Kolibriq, Leningrad, LitleMouse, Malinka, MCS Newera V4e, Medusa Coldfire, Medusa Mintari, Medusa Phoenix CF, Merlin, MILAN CF, Mintari, NATARI, Nectaric, Nectaricc, Nektarik, Nectarin, Nektariq, NetCrasy, Newera, Newera ACP, Newera PCI, Newera V4e, Newera CF, NEXTOS, Nextos, Nixiek, Opening, phoenix, Pixelik, Poeticc, Poetiq, Ppoemm, Ppolarr, P-xyp, Pyro60+, Qotiq, Rainbow, Raptor, Sansan, Sierra, Spirit, Spirit v4e, ST(ultra), te ari, The fabulous Ice machine, The Love Machine, Ukeru, Vulcan, Volcano, Vulkan, Widel, Yleqotiq
2010-01-31 New developers
At latest by the time we announced USB driver development more developers joined forces with ACP. Now we want to tell you who we are talking about. We are very glad about people who couldn't work with us a year ago, or who have been inactive regarding the Atari sector. People knowing the scene will already know most of the names - they speak for themselves!
As members we are greeting:
Alexander Beuscher
Olivier Landemarre
Bernhard Pavelka
Odd Skancke
Jo Even Skarstein
David-Harley Strango-Saunders
As advisors we are greeting:
Thomas Baumgärtner (Soundpool)
Dirk Klemmt
Miro Kropacek
Naturally this doesn't mean our project team is completed and every part of it is sufficiently covered. There's still much to do! Especially the parts which don't require knowledge in software or hardware development could need support.
2010-01-21 Our Board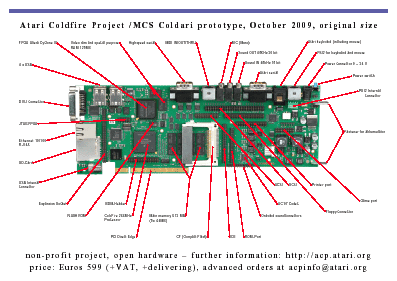 The following poster provides a complete overview of the board. Anyone who prints it out at A3, will get a 1:1 version of the hardware. The poster itself was first presented, in an older version, at the Eurocon in Vienna, and later at the Chaos Communication Congress (26C3) in Berlin.
Poster's full version in pdf-format (2.8 MB)


Because the cost is sometimes asked about, the price is a definitive Euro 599. The hardware will be build by Medusa Computer Systems / Switzerland, who is also providing the standard warranty. It can, since mid 2009, be ordered in advance at the project website.
2010-01-07 Computer Naming
We decided to let the Atari community find a name for our computer. The current codename of our project is 'Coldari' which some people don't like too much. Thus we want you to find a name for us - you, who supported us, contacted us with hints and sending good wishes within the last year.
We want comprehensive debates and brainstormings on Atari-Home.de, Atari-Forum.com and on our mailing list. We ask you to send earnest ideas to 'acpinfo at atari dot org' until January 31st 2010. The team (which has grown to 37 persons up to now) will then find the best 10 propositions and check them regarding usuability. An acclamation until February 20th 2010 will then assign the definite name.
Please take care about trademark rights. 'Atari 2010', 'New Falcon' or 'Microsoftkiller' would be discarded at once.
On February 21st we will officially nominate the computer to its name, which you chose, and under which it will then be produced. We will nonetheless refrain from throwing a Magnum bottle of Champaigne at one of the prototypes ;)
Please send numerous ideas ...
2009-12-24 Zoom inside the ColdFire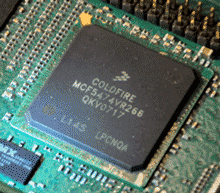 As the name implies, the heart of the ACP computer will be a ColdFire microprocessor. We have chosen the model MCF5474, which is the fastest one. The ColdFire processor family is designed and produced by Freescale Semiconductor, the subsidiary of Motorola on semiconductors. The ColdFire chip is not only a CPU (like the 680x0 family was), it is actually a microcontroller. A lot of useful additional controllers are built directly into the ColdFire chip. They are directly usable on our computer, providing a very high level of integration. This is why the ColdFire is the best choice for designing a modern Atari-compatible computer.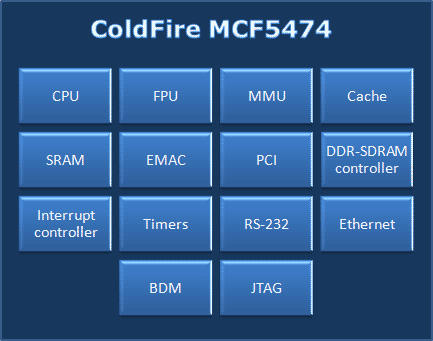 - CPU 266 MHz The main component of the MCF5474 is a ColdFire V4e Core. It is very similar to the 680x0 CPU family, but not fully compatible. Basically, some complex or rarely used instructions and addressing modes have been removed. Thus the ColdFire CPU is more simple and cheaper than any 680x0 CPU, while being a lot faster. With an additional lightweight software layer, the ColdFire CPU can be made compatible with existing 680x0 programs.
- FPU The Floating Point Unit is the mathematical coprocessor. When used, it provides a big speedup for programs using intensive math functions. The ColdFire FPU is similar to the 68881, but it has limitations in instruction set and addressing modes, like the CPU.
- MMU The Memory Management Unit can be used to provide Virtual Memory or memory protection between the different processes running on an operating system.
- Cache 32 KB x 2 The ColdFire cache is divided into a 32 KB instruction cache and a 32 KB data cache. The usage of the caches improves greatly the speed of the CPU, by optimizing the accesses to the external memory.
- SRAM 32 KB The Static RAM is a high speed memory embedded into the ColdFire. It is required for DMA transfers, but can also be used for any other purpose when high performance is required.
- EMAC unit The Enhanced Multiply-Accumulate Unit is a DSP-like unit supporting integer and fixed-point operations. It can be used to speedup some specific process such as image compression.
- PCI controller The PCI bus has become the standard for extension boards in desktop computers. The ColdFire has built-in support for controlling PCI devices. This allows the usage of the hundreds of PCI boards available on the market. Of course specific drivers will have to be developed for every PCI card.
- DDR-SDRAM controller The ColdFire can work with external DDR-SDRAM, for excellent performance. The ACP board has 512 MB of DDR-SDRAM built-in.
- Interrupt controller The built-in interrupt controller can be compared with the MFP 68901, but a lot more flexible and powerful. It can use up to 63 interrupt sources with a specific exception vector for each source.
- Timers 4 General Purpose Timers (GPT) and 2 Slice Timers (SLT) are available. They are comparable to the Timers A/B/C/D of the MFP 68901, but more configurable.
- High Speed RS-232 controller The built-in Programmable Serial Controller (PSC) can be configured as a RS-232 interface for high-speed transfers, including at 115200 bps.
- Ethernet 10/100 controller A standard Ethernet controller is built directly into the processor. This allows an instant connexion to the local network and Internet.
- BDM / JTAG interfaces These debug interfaces can be used with hardware debuggers or external software for monitoring the CPU activity or flashing the EEPROMS.
As you have seen, the ColdFire MCF5474 chip contains an incredible list of useful components, and there are even more. The full documentation is available on the Freescale website:
2009-12-11 First working GEM Application
We have just enabled the floppy drive on our prototype. This means we are now able to run external ColdFire programs. Here is the first one. It's a small GEM test application displaying an alert box. The ACP computer becomes usable, this opens the door to a bunch of new test programs.
2009-11-26 SDL has been adapted to our machine
By mid of november Patrice Mandin has published a new version of SDL. This 1.2.14 release is the first one containing ColdFire support in order to be able to run on our Coldari to be. We are highly delighted about this as Patrice is not associated with the Atari Coldfire Project in any way, and Simple DirectMedia Layer will be the first external application to support our computer.
This support shows - although being theoretical due to lack of testing machines - that we can count on wide acceptance in programmers' circles and that our initiative is a further good way to improve the situation within the Atari 16/32 sector. We hope to see numerous cases of program optimisation within the next months, including some outside the open source area.
Further information about SDL on Patrice's web pages.
2009-11-18 State of the Prototype & First simplified EmuTOS booted!
Since the end of October we are working at the prototype. Following is tested an working:
Power and batterie charger
PIC18F5420 (Power controller)
MCF5474 (LED is blinking)
Flash
DDRAM (Hardware diagnostics memory test passed)
FPGA programming (LED is blinking)
Video DDR-RAM (0 wait states!!) is running and tested and has passed the hardware diagnostic test
TFP410 und DVI is tested an running. The Image quality at it seems good.
SRAM for FPGA has the hardware diagnostic test passed
PCI is running and the USB-Chip is dedect
FPGA programming
Video is running and tested about 1680x1050 167MHz and OK. The Image quality seems good.
The next item is to implement the "Falcon chips" in the FPGA
Yesterday we were able to boot for the first time a simplified version of EmuTOS, using only the VIDEL for video output. The usage of other Atari hardware (including keyboard) has been disabled for test purposes. The components will be enabled one by one in the next days, to easily detect and fix eventual bugs step by step.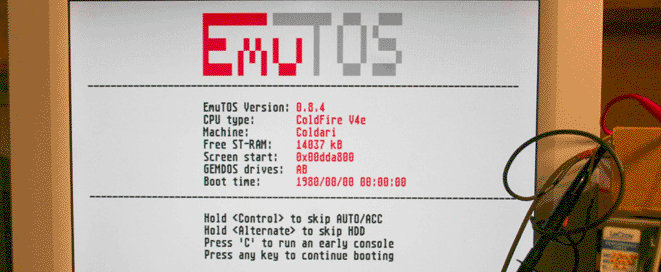 2009-10-27 Sound Progress
Since July Didier got one AC´97 codec we are going to use at our computer, soldered to his ColdFire Evaluation-Board. Writing the complete driver consists of 3 parts. The XBIOS, MCF547X/548X driver, and AC97 codec driver. The XBIOS was comparatively easy, as there was the MagicSound (Aranym/MagiCMac), and thus is finished. It uses Linux ControlNames for the ac97_codec.c compatibility. For the progress of AC97 codec part cleaned Linux sources are used, which needs several command replacements. At the moment AC link problems with the Coldfire (writing problems, reset values in registers) are under development and in progress.
The XBIOS is compatible with the MilanBlaster/GSXB software and allows to select each source: AUX (PSG on Coldari), CD, LINE, MIC, but also FM -> PC Beep and VIDEO
The AC97 native list of frequency is 8000 Hz, 11025 Hz, 16000 Hz, 22050 Hz, 32000 Hz, 44100 Hz and 48000 Hz.
As well the driver for the LynxEM (PCI-onboard graphic chip of the evaluationboards) is ready-made. The testing and debuging of the driver will take place in the following weeks. Now you can use the EVBs with onboard graphics and without the need for a Radeon.
You can always follow Didiers progress at his page.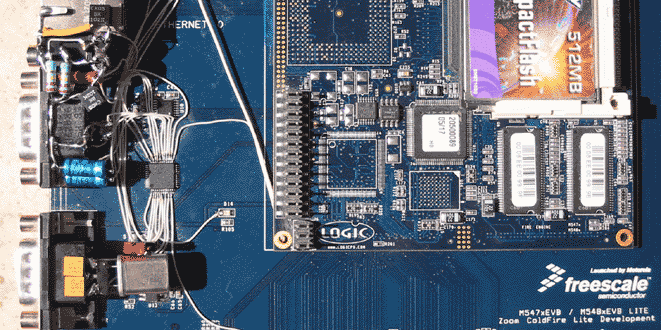 At this picture you see the achievement of huge work soldering a AC´97 by hand to a ColdFire Evaluationboard. Didier added a mini-jack sound output on the left between the Ethernet and RS-232 ports.
2009-10-05 Discount Source for ColdFire Evaluationboards
Our teammember Mark established contacts to a real cheap source for ColdFire Evaluationboards. We got the possibility for at all 20 pieces of M5485 EVBs, for 125 US$ each unit to buy. Original retail price is $850. Through this it will become possible to immediatly (before our project reaches series production) start with the adaptation, and above all, the testing of software which is running at ColdFire. Developers, especially those who care about softwaretitles or who are not part of the ACP, can and shall participate in our contacts. Who wants to order a Evaluationboard for 125 Dollar, should contact us as soon as possible. At this EVBs Didiers patched FireTOS and MiNT is already running.
Who want´s one?
For those programmers who are not so good with hardware, Mark is offering the possibility of creation of coldfire development machines. They will consist of an M5485EVB which is one of the fastest coldfires available, Eiffel (CAN-Bus) for using PS/2 keybord and mouse, a Radeon graphiccard, CompactFlash. Also HD-Driver, FireTOS and MiNT are ready setup and configured. This ready EVB, which will be 500 US$, comes with the following features:
16MB Boot flash
64MB SDRAM (NOT UPGRADEABLE)
2 PCI slots (1 usable easily)
Real time clock
IRDA
2 10/100Mbit Ethernet ports
USB High speed Host + 4 USB ports
1 USB client port
2 ISA ports (for possible future use)
Onboard CHIPS video controller
Serial null modem console cable
Parallel BDM cable

For detailed specifications we recommend the Freescale site for the product and the picture
Didier is currently working at a driver for the LynxEM (Graphic PCI chip - which is soldered at the EVBs) and expects to finished to write in several weeks.
Please contact Piku directly at http://www.atari-source.org/ or our project mailaderess acpinfo (at) atari.org
2009-09-18 USB driver development started
Like several times reported, we expect the development of the USB driver to be one of the biggest tasks which is imminent to our project. Today we´d like to acquaint you with our undertaking and everything what happened till now, regarding USB.
For about three month we got a new team member - Sascha Heinisch. Sascha decided after a short time within the ACP to become maintainer of the widespread USB-project for Atari. Together with David Galvez he forms a small team, which will realize the long term driver development, among supervision of the rest of the team. The team is, as a matter of course, open for further persons. Especially we would appreciate attendance of those people, who so far already did USB-programming at Atari, and who are not reachable for us within the last weeks!
The long way:
At present the team familiarize itself with low-level driver development as with OHCI and EHCI specifications. The chip which is used from us, is a further part which needs widespreaded vocational adjustment. Beside the preliminary stages from within the Atari community there are two leads available for us:
1) A GPL Linux-driver for the NEC µPD720101 Because the NEC is used at many PC-USB cards, and also our chip will be attached via PCI-bus, nothing get in the way of using any USB-card with NEC µPD720101 under Aranym to be able to start imediatly with driver development.
2) The since 2009-27-08 freed Amiga stack Poseidon. (The community did buyoff the stack for Aros, and this now was released under the free Aros-licence). With the programmer and former owner Chris Hodges, friendly contact is established for a while.
Not least we could possibly learn something from the 8-Bit scene and use reasonable solutions from http://microusb.org/ .
The ACP is prepared for a really long-term development. To make clear what that means: we expect USB-Input-Device and USB-Mass-Storage not before summer 2010. Therefore the development can take place at a level which can be kept up over a long time.
Our Chip: Contrary to our first announcements - that we like to use the ISP1536, we had rapid to rearrange, because the chip is not longer delivered. Anyhow we think that 95% of our future developments will be usable for all Atari-projects with USB and will leverage the entire platform to utilization of USB. We think about EtherNat, CTLink, NetUSBee und Suska, for which alltogether no expedient USB-stack is in existance. All this projects should, with small adaptions, be able to profit from our Open Source development.
Together: Who likes to take a long-term role at ACP is, as every time, called to report, and support the USB-team - even with small contributions! Together many things work much more easier, it simply is imperative that we organize us meaningful.
2009-09-03 New Pictures
To satisfy your curiosity, waiting for the prototypes arrival, we got again some pictures from a paperboard with laid samples. It is about the last version, which was sent to the factory for production.
---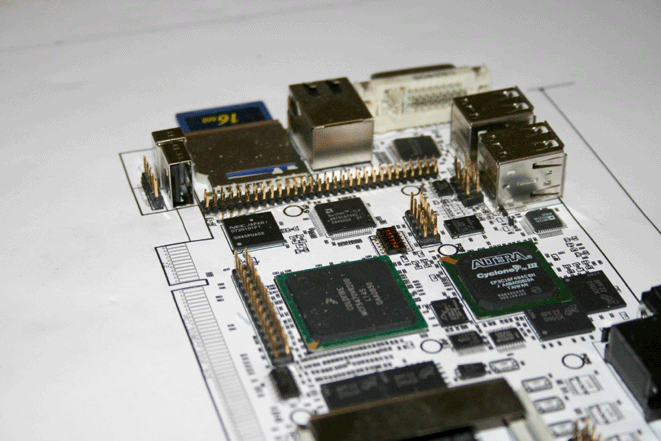 ---

---

2009-08-27 Official Atari Coldfire Project theme song
We are proud to announce the official Atari Coldfire Project theme song. Produced by Neo Bechstein in July 2009. The Voice "Atari Coldfire" is generated with STSpeech at an 1040 ST and the song was recorded with a Falcon. We like to thank him for his efforts to support our project with a song, with this status. Also we want to show you out there, that there are many possibilities to bring our project forward.
Neo Bechstein - Atari Coldfire Project.mp3 (21MB)
Neo Bechstein - Atari Coldfire Project.ogg (14MB high quality)
Neo Bechstein - Atari Coldfire Project.ogg (7MB low quality)

2009-08-06 Schema & Co.
Today we got the assembly diagram and the schema for you. Below you can download our 5th revision as sent to the factory for the prototype production.
2009-08-05 Prototypes ordered
At the 4th of august we ordered three prototypes of our new ColdFire Computer. It´s the revision 0.98 of our board with the redesign to a DVI-I connector and some other minor changes. The boards should arrive in around 6 weeks at Medusa Computer Systems in Switzerland. Please everyone who preordered, prepare for the advance payment. ;) Because ordering the prototypes means: the computer will be built!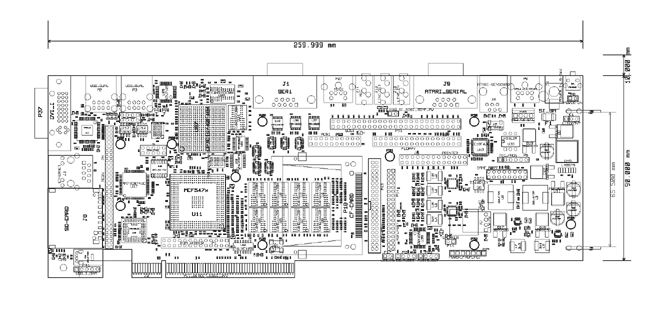 2009-07-28 Suska III-C available
Not directly an ACP issue, but very important news is that the Suska III-C board is now available. The Suska is an Atari-ST(e) Clone, with all the modern connectors. It is produced by Wolfgang Förster who is also part of the ACP. The Suska Board was designed during more than 5 years (!) of work done mainly by Wolfgang. Every single Atari-chip was redesigned and reverse-engineered to be configurable in VHDL and to be used inside a modern FPGA. So we now have every custom chip available as open source configuration, to produce further Atari-compatible computers. Also in January Wolfgang agreed to become a member of the ACP and to support Fredi Aschwanden with developing the hardware. The ACP board as far as it depends on the FPGA, is mainly based on the free VHDL core which was developed for the Suska. So we now want to point out the fact that the Suska board is readily designed and that for the first time within the last decade we got a new and available Atari-compatible computer. The Suska is an extremely compatible replacement for our Atari ST(e)s, which might be interesting for people who like to play the old original games or demos. The Suska III-C board is now directly availaible for Euro 619,- (VAT included) from Inventronic.
We like to assure you that we do not see our projects as a rivalry. In fact, the huge amount of work done for the Suska lead to a fast developement for the ACP. The Suska and the ACP board are for different needs, and we are proud that our beloved TOS compatible platform soon will get a second deliverable computer.
http://experiment-s.de/en
http://shop.inventronik.de/store
2009-07-20 EmuTOS "proof of concept" has been done
Vincent Rivičre managed to run EmuTOS on the M5484LITE evaluation board in text mode. He disabled the AES, so it boots into EmuCON, the early console. The console I/O is redirected to the ColdFire serial port. So with any terminal emulator, we can type commands and see the results. Be sure this EmuTOS version is fully ColdFire software and does not contain any 680x0 emulation. Currently EmuTOS boots instantly, the display speed is only limited by the serial port.
Vincent also implemented a ramdisk to run ColdFire TOS programs. He is going to cleanly integrate the ColdFire support into the official EmuTOS CVS repository, with the help of the EmuTOS developers. So after Didier Méquignon's FireTOS (patched TOS 4.04), this is the second Atari OS running on ColdFire processors.
In this picture (click on it to see the full version) you see a terminal emulator running on another computer, connected to the ColdFire board through an RS-232 cable. The file emutos2.srec, containing the EmuTOS ROM and the ramdisk data, is downloaded into the board through the Ethernet connection via the TFTP protocol. Then EmuTOS can boot and access the ramdisk through the A: drive. This OS can currently run ColdFire programs only (for example, those compiled with GCC and the ColdFire MiNTLib), an additional emulation layer for running standard 680x0 programs will be added later.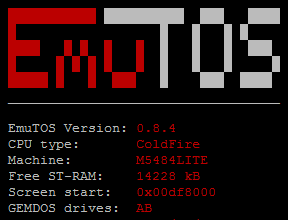 2009-07-12 Hardware transfers
The developments are progressing continuously. Recently quite a lot of hardware transfers occurred in our team.
Fredi Aschwanden got a sample of our AC'97 Codec and sent it to Didier Méquignon. Didier has connected it to his ColdFire evaluation board and is currently working on the software part. Markus Fichtenbauer is sending a NetUSBee to Sascha Heinisch.
Olivier Landemarre sent his ColdFire evaluation board - which he got from Mark Duckworth - to Vincent Rivičre, and we thank him a lot. Vincent also got an Eiffel adapter from Alan Hourihane, so he can use a PS/2 keyboard and a mouse with the board. From now on he will be able to do experiments on the real hardware, for a better understanding of the ColdFire internals. Moreover, he is also porting EmuTOS to ColdFire, and most of the work has already been done.
2009-06-12 Technical Background
Technical Background about the planned ColdFire-Computer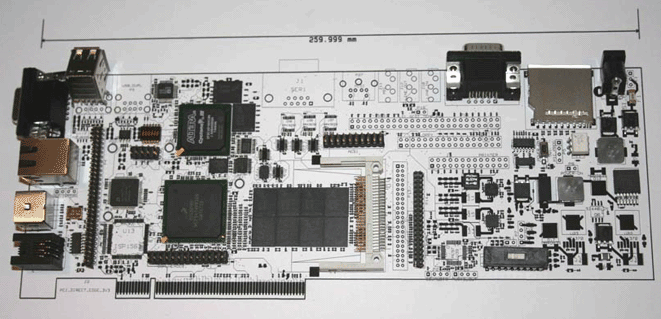 2009-06-07 MiNTLib ready-made for ColdFire and a new member
Vincent Rivičre has finished to port the MiNTLib to ColdFire, his work has been included into the official sources. First tests on M5484LITE Board show that it works perfectly on TOS. Just after that, he has published a new version of his cross compiler GCC 4.4.0 with full ColdFire support, including the MiNTLib, math and GEMLib libraries. This compiler can be used right now to produce native ColdFire TOS programs that will run at the highest speed on our new computer. The cross-compiler is available on Vincent's page.
Dima Sobolev from St. Petersburg/Russia joined the ACP. Dima is well known to STeem and TeraDesk users, and he also russified TOS 2.06. So we from now on got somebody responsible for "translation english/russian & TOS localization". Dimas "work" will reinforce the Atari-Scene from "Kaliningrad" to "Vladivostok" and help russian speaking Atari users to use our latest developements. We now also got a great teammember who got high experiance with lokalization of TOS in general.
2009-05-23 TOS, MiNT and DVI
Didier Méquignon has adapted Firetos (his already for CT60 use patched version of TOS 4.04) to our new hardware. He has done quite a lot of work, so we can expect to boot our new board as soon as the prototypes are availaible. This work - also an adaptation of the work already done for ColdFire - became possible because of Didiers huge experience at the M5484LITE board since 2006.
Vincent Rivičre is currently patching the MiNTLib to enable its recompilation for the ColdFire processor, in order to produce fully native ColdFire executables which will run at full speed on our computer. He expects his work to be finished soon.
Finally Fredi Aschwanden decided after a discussion on the Atari-Home forum to upgrade the hardware to a DVI-I connector instead of the first planned VGA. Most of the preordering persons would like to see our computer equipped with VGA and DVI possibilities and are also willing to pay more to have the digital video signals. But as a majority wants VGA - which could be seen after a quick poll - we decided to use DVI-I with both signals, and have the possibility to use an adapter from DVI to VGA. The works concerning this matter already began.
2009-05-19 New development environment and a new language
Besides of the hardware we cared about a new development environment during last week. The developers of vbcc agreed to adapt the MiNT and TOS target of their development environment to the V4e. Thus very soon Crosscompiling will be at our disposal on many different platforms, for example AmigaOS/MorphOS, MacOS X etc. vbcc can be compiled without any changes for each platform on which an Ansi-C compiler is in existance. The vbcc team will change the last two known errors for ColdFire and we will extensively test and send bug-reports, which then again will be worked on. Likewise vbcc will be available on the ColdFire and is the fourth development environment which will run on our computer.
Today it was a great pleasure to introduce our spanish news due to further support. We now can report about our progress in five languages. A big thanks goes to Victor and David.
2009-05-12 New team member for editorial office and translation
After yesterdays request for participation in the ACP, Jens Riemann contacted us and offered help. Jens will immediately assume the editorial office and translations between German and English. Further we need people speaking French and Spanish who are willing to take on a long-term role inside ACP. This would help to release developers and to push on the project.
2009-05-11 Two of the best Atari developers joined ACP
Didier Méquignon is with us and and will work on the ColdFire board - as soon as his "job" at CTPCI (from powerphenix) is finished . At first he likes to work at the AC'97 codec of the board. He will also bring in his great knowledge about ColdFire in general. To be sure to understand the relevance of this news; Didier patched TOS 4 to run at a ColdFire-board, got MiNT up and running at his developementboard, wrote a driver for ATI-Radeon-cards, and got one of the two only working coldfire-systems which are in existance at the moment. And that was not all! His already done great work can be contemplated at: ctpci-e.htm
Lonny Pursell also agreed to join the Atari Coldfire Project as official member. As we already reported, Lonnys aim is to get GFA-Basic ready for ColdFire. Lonnys knowledge will be a big help for the whole team and beside working closely together with the compiler team (AHCC and GCC) he will also help at some minor tasks and give advice to the developers where his competency can be helpfully.
Further helping hands, especially translators and developers, are welcome every time!
2009-05-07 Simplified schematic of our new computer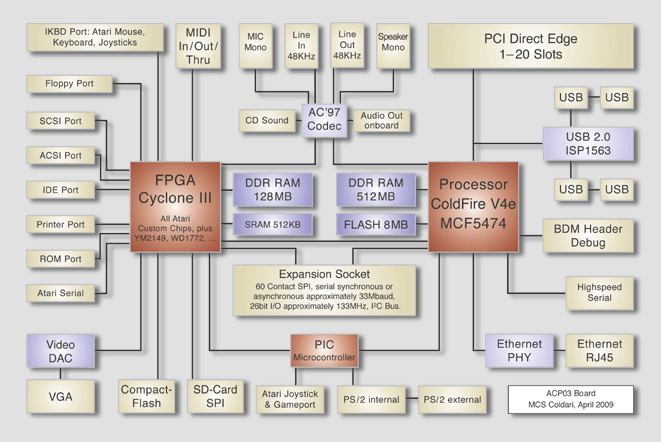 2009-05-05 Support of all relevant developement environments assured!
GFA-BASIC
Lonny Pursell announced his efforts for supporting the new Coldfire Computer in a first reaction after our public announcement. The maintainer of GFA-Basic prefigured possibility of reworking the GFA-Basic Compiler/Library so it builds CF native apps. Should he succeed then this would allow just a recompile of existing applications, to get even more stuff up and running at improved speeds. Lonney Pursell declared that he´s willing to do a lot of work, how he suspects it, if the machine is released. He explicitely welcomes our decision about which processor we choosed for the future developement of the Atari-ST plattform.
"I'd still like to see such a beast of a machine. You would not see me jumping on the support band wagon if it was some other processor though. [...] I see the CF as an old friend who maybe went on a long trip, came back a slightly changed man. A warm familiar face I can easily speak to." he said. Read his entire message at the public MinT Mailinglist.
GCC 4.4.0
GCC 4.4.0 has just been released, Vincent Rivičre has updated the MiNT patches for it and built the Cygwin binaries. He enabled compiler support for the ColdFire V4e family. So right now, we can run that cross-compiler on Windows systems to write initilialization code for our ColdFire board, and to check the compatibility of other software, even if there is no hardware yet. Since the GCC patches are host-independant, the cross-compiler binaires can be rebuilt for any OS supported by GCC (MacOS X support has already been announced by Markus Fröschle). Your help is welcome !
You can find Vincent's patches and binaries here: m68k-atari-mint tools Vincent has also started to enable ColdFire support in the MiNTLib. He evaluated that is was possible with a reasonable amount of work. When this is done, it will be possible to produce native ColdFire MiNT/TOS software what will run at full speed on our new computer. GCC is the universal C/C++ compiler. Combined with current support inside the FreeMiNT kernel and the MiNTLib, it allows to port GNU/Linux software directly to Atari/MiNT. Moreover, it can be used to write standard TOS software (including GEM) at a very high level of optimization.
Pure-C compatible AHCC
Henk Robbers, also part of the Atari Coldfire Project, again declared, that AHCC will be adapted to the ColdFire. So a lightweight C-compiler will most likely be available too. AHCC is verry important for recompiling existing Atari applications - and it´s GEM and single-tasking compatible. Most native Atari software is written using Pure-C and can be recompiled with AHCC. Henk Robbers´ roadmap:

1 Compile and run EmuTOS. As a proof of concept.
2 Implement CF machine option in TT-Digger.
3 Implement 68020/CF compatibility target in AHCC.
4 Recompile and run EmuTOS.
5 Implement CF specific target in AHCC.
6 Rewrite in C the VDI_BLIT & VDI_TBLIT functions of EmuTOS.
7 Hopefully at this time the ACP board exists. :-)
8 Recompile and run EmuTOS.
9 Recompile AHCC and run it on the ACP board.
10 Be happy to have lived through all of this.

With this three important developement environments we got the neccessary fundament to compile software native for the ColdFire computer. That would be executable with maximum speed at the ColdFire. For the future we hope thereby for many new developements for the whole range of TOS/GEM
2009-05-01 News on Italian
Thanks to great support from the community, after our first public announcement, we today could open our news on italian language. From now on we will be reporting about further developments of the project beside english, french and german also in italian. Further languages are welcome!
2009-04-30 Official ACP email address
We now have an official email address for the project. Please use only this one for any communication with us, including for preorders.
acpinfo (at) atari (dot) org
2009-04-28 Atari Coldfire Project Reloaded
Since the beginning of December 2008 we've been evaluating the possibilities of continuing the Atari Coldfire Project or starting over with it. Our evaluation is now complete and we'd like to let you know that we consider this project basically possible and that from now on we will be working under the name "Atari Coldfire Project". Our primary goal is to build a new Atari TOS clone which is based on a Coldfire processor and to make it available to the public for the lowest possible price. This is a free project that is free of commercial interests of any kind.
One of the main goals with our new hardware is to allow further development to be possible in the future in the widest possible scope. "Hardware updates" will become possible by VHDL code for free. The long term goal is absolute compatibility with every Atari TOS machine ever built. In the beginning however, we can assure Hades compatibility.
At the moment the following people are involved:
Matthias Alles
Lyndon Amsdon
Fredi Aschwanden
Joachim Boltz
Mark Duckworth
Norman Feske
Markus Fichtenbauer
Wolfgang Förster
David Galvez
Kassian A. Goukassian
Alan Hourihane
Oliver Kotschi
Frank Naumann
Vincent Rivičre
Henk Robbers
Mathias Wittau

Further support and advice at special tasks comes from:
Pascal Barlier
Arnaud Bercegeay
Jens Klietz
Peter Persson

We are currently in contact with other famous people, this list will soon get bigger!
We welcome and request help from every person who can contribute something, no matter how small! Remember too, that since this is a free project, it absolutely depends on community involvement and cannot be accomplished without your help.
Because Fredi Aschwanden with the support from Wolfgang Förster directly began to develop the hardware, there is an interim layout of the planned computer available. It got two advantages which could also be interresting for non Atari enthusiasts, we would like to point at. The verry small size of the board and the extremely low power consumption.
The actual specifications are:
Processor: Coldfire MCF5474, 266MHz, 400MIPS

RAM: DDR, 512MB Main- + 128MB Video- and Special-RAM on Board, Speed: 1GB/s

Flash: 8MB on Board for Operating Systems

Operating system: TOS3.06 for the beginning (we're trying for EmuTOS as TOS 4, from which we can maybe get even the source code, also)

Atari compatible interface ports:
- TT/Falcon-IDE,
- ST/TT-Floppy
- TT-SCSI (but faster),
- ACSI
- ROM-Port: 2x2mm Connector
- Printer Port, parallel
- ST/TT-serial,
- Midi,
- ST-Sound, YM2149 over AC'97
- ST/TT/Falcon-Video
- Atari-Keyboard with Mouse

Other Ports:
- Ethernet 10/100, 1 Port
- USB 2.0 Host (ISP1563), 4 Ports
- Compact-Flash, 1 Port
- SD-Card, 1 Port
- AC'97 Stereo Codec with DMA-Sound Output and 48kHz Sampling Input
- Sound_Connectors: LineIn, LineOut, Mic (Mono), DVD/CD internal
- New Video Modes about 2MegaPixel, true color
- PS2 Mouse/Keybord Port

Battery Powered (if desired)

PCI 33MHz direct Edge for passive backplane

Power controller with real time clock, PIC16F506

Extension socket: 60Pol (DSPI 33Mbaud, seriel sync or async about 33MBaud, 26Bit I/O about 133MHz, I2C-Bus)

Asynchrone 512kB static RAM for DSP or similar

already planed extensions in the future: Falcon DSP in the FPGA

Format: Card 90mm x 260mm x 20mm

Power consumption of the complete board: 3 to 5 Watts

The board for this computer will be in a PCI form factor. What this means is that you will be able to use it in three ways, all equally well:

1. As a independent motherboard.
2. As a PCI card in a standard tower case with a passive PCI backplane.
3. As a PCI card inside a PC as a kind of daughterboard.


The final price for the board isn't certain yet. For the first 25 preordered boards the fixed cost has been set to Euro557,- (+VAT and shipping).

To be able to start with the production of the hardware we need 25 preorders which are fixed through a advanced payment of Euro200,-. Subsequent to that we can begin the prototype production and start with software development. Therefore the first 25 people preordering would then need only to pay the Euro357,- remaining.

As much of our work as possible will be published under free licenses.

Going forward, we will be continuously reporting further developments at http://acp.atari.org/news.html

ACP in April 2009
2008-12-15 Atari-Coldfire initiative from Switzerland and Austria
According to new impulses from Switzerland and Austria, since the beginning of december 2008 several developers are contacted personally. The aim is to find out which skills and how many support-possibilities in the Atari-Community are in existance. Afterwards can be decided if and how the project can continue, or if it can get started again together.
Atari Coldfire Project Archive
You will find here the news related to our first project which took place between 2002 and 2008.